Canon All In One MG6350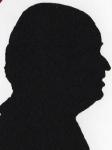 This unit will immediately find favour with ladies as it is creamy white and far more likely to fit in with the colour scheme. It is also rather stylish being sleeker than most other All In One units. It is fully touch controlled.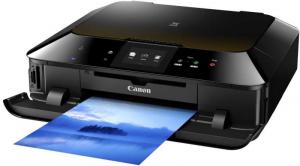 click image to enlarge
It is 46x16x33cm. The two paper input trays are fully inside the unit and the output tray drops open at time of printing adding 17cm to the last figure.
Once the output tray is lowered three card slots are revealed on the left of it.
Unusually it is creamy white and it totally touch controlled, a 7x5cm is in the centre of the front of the face/top which slopes forward after the back 22cm. The flat piece has the scanner under a lid. The onlty other control is a near invisible on/off button 10cm from the left.
All the connections A/C input, Network and USB are back left.
This is a six ink printer, black, red, blue, yellow, grey and a larger black.
For those who print remotely, Cloud, Internet and Apple Air Print are all supported. You can set it up via Wi-Fi, USB or Ethernet.
You can print onto special optical media (do not try to print onto standard Cd's as they will never dry.
While the software is still supplied on CD-ROM you can go to the Canon site and download not just the drivers but also the Image Garden software that not only prints what you want but can also print calendars and other stuff.
Should you want to print on both sides (duplex) this can do it by changing a single tick box in preferences.
The title All In One should tell you that this prints, copies and scans.
Printing speeds are determined by using 'Fast' printing speed (options are Standard and Best) which is still a good black – some other manufacturers Fast is grey – but it is a little noisy. The claimed print speeds are now obtainable they are 15PPM in Black and 10PPM in colour, these will be less in Standard and a lot less in Best mode.
All printing speeds are determined by printing 'x' copies and starting from page two and ending before the last page. So a single page print time will probably be near 30 seconds from power on and this includes warm up and then sending data to the unit. It is possible to print 9600x2400DPI.
The only print speed given is 21seconds for a 15x10cm print again a little confusing because this is not in Best mode and does not include warm up and sending data but it should be less than a minute in best mode.
It can scan up to 2400x4800 and the claimed scan speed is 14seconds, My Image Garden software can do OCR so you can scan an image or text, the latter to a word processor where it is editable.
Copying does not need the PC to be on as it can copy between 25% and 400% in 1% increments and there is also a fit to page option all this direct from the unit by using the touchscreen. You can also set up multiple copies (up to 99).
The automatic drop down of the paper output tray at print time is an advantage on some other units that you have to open manually.
The Canon Pixma MG6350 is available from the link below for £119 with free delivery.
http://www.amazon.co.uk/gp/product/B009D07OTS?ie=UTF8&tag=gadge0a-21&linkCode=as2&camp=1634
http://www.canon.co.uk/For_Home/Product_Finder/Printers/Inkjet/PIXMA_MG6350/#p-specification1