A New Printer Category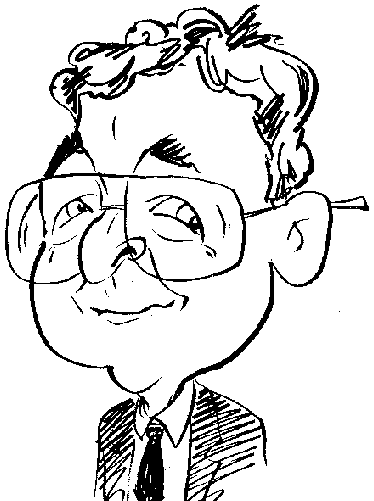 Printers tend to fall into distinct categories offering the user a choice of either / or facilities. You could select from a laser or inkjet model. Perhaps a standalone unit or a multi-function device that can provide print, copy, scan and possibly fax capabilities would fit your needs. There is a choice of an A3 or A4 model with both types being able to produce documents in various smaller sizes. Now there is a further category to consider as Brother has introduced a range of printers that turn document printing through 90 degrees with its landscape, rather than the more familiar portrait, printing capability. This facility allows the printer to product A4 and A3 documents from the same machine.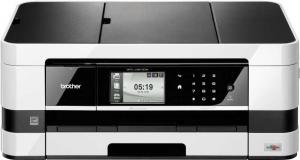 click image to enlarge
The first such printer to be launched in this innovative J4000 range is the MFC-J4510DW. As the MFC suffix indicates, this is a multi-function device that gives you print, copy, scan and fax functionality. You also get a 20-page ADF (Automatic Document Feed) feature and automatic Duplex printing. This model provides a choice of USB, wired LAN or wireless network connectivity when adding this product to your computer system. Apart from the power connection at the rear of the unit, all other connections, whether for USB, fax or possible telephone extension, are located in the body of the printer accessed by raising the scanner unit.
When I first saw this product my immediate thought was that it reminded me of a rather large Liquorice Allsorts. You know the one, it sandwiches the liquorice slice between two white layers. After using the J4510DW for a while, I still can not shake this initial thought.
With dimensions of 480 x 186 x 290mm (W x H x D), the J4510DW follows the standard arrangement of an A4 scanner being placed on top of a printer which is then mounted on the front-loading paper tray. However, unlike other multi-function or standalone devices, this Brother's A4 150-page capacity paper tray accepts and feeds its supply of paper in landscape mode. Although the paper will then be ejected in landscape mode, the actual document produced will be printed in portrait mode.
You are advised to completely remove the paper tray when loading it with paper. I found that the removal and replacement of the paper tray was not particularly easy. I also felt that the extendible paper support was rather flimsy but it did manage to keep documents from being scattered over the floor.
When A3 printing is required, you need to make use of the unit's manual paper input mode. This is located at the rear of the unit which is accessed from a slot that is hidden behind a pull-down cover. Adjustable paper guides allow you to insert different sizes of paper, a page at a time.
The front of this multi-function device contains two compartments, located either side of a control panel positioned above the paper tray. You can adjust the angle at which this control panel is held to give better access to its 3.7-inch touch screen and a touch panel which lights up its features when the appropriate mode is selected. A power on/off button and WiFi indicator light are also available from this control panel.
The compartment to the left of the control panel provides access for inserting memory cards, with support for Memory Stick, SD family and MMC, plus PictBridge. As usual with Brother, the four ink cartridges are inserted in the compartment on the right of the control panel. When inserting the cartridges, feedback will be displayed on the control panel as each cartridge (magenta, cyan, yellow and black) is accepted by the printer.
The unit's fax feature allows for both monochrome and colour faxes to be sent and received. Options are available to preview a fax before dispatch plus adjust the contrast and resolution. Other features include sending the same fax to 200 destinations; accessing a phonebook with 100 entries; and auto reducing incoming faxes to fit A4 paper size.
The presence of the ADF feature on top of this unit allows you to produce copies of documents up to 20 pages. The J4510DW automatically switches to copy mode when the ADF feature is accessed. Copying an eight page document, using ADF, took 72 seconds to complete the task of scanning and printing with reasonable results. For single page photocopying from the flatbed scanner to the printer required 35 seconds for a colour A4 document.
When printing documents from a computer, the Brother print driver gives you a choice of Fast, Normal or Best quality. Using my standard 102-word document first in monochrome and then in colour with the additional of a small image, I achieved the results listed below.
Brother MFC-J4150DW

| | Monochrome | Colour |
| --- | --- | --- |
| Fast | 28 | 26 |
| Normal | 19 | 18 |
| Best | 3 | 2 |
While my tests failed to match those quoted by Brother, there all produced reasonable results although I was surprised by the drop in pages from Normal to Best. Fast mode would be fine for editing and the like while Normal would be suitable for most documents with Best being reserved for those really important documents when you really need to impress.
Photo printing can be carried out with content stored on a computer or using the USB flash stick and memory card option. It was noticeable that prints were produced quicker when using the computer than a flash stick or memory card. When printing from a memory card or flash stick, there is no option to select matte photo paper. See the table for the timings I recorded.
Photo Printing

| | Computer | Flash Stick |
| --- | --- | --- |
| 10 x 15cm | 20 seconds | 54 seconds |
| A4 | 127 seconds | 162 seconds |
Apart from the rather awkward paper tray, I was impressed with the functionality and performance of this Brother multi-function device. You get features such as automatic Duplex printing along with compatibility with Airprint™, Cortado, Print&Scan and Google Cloud Print™ with content being delivered from Google Docs, Facebook, Flickr, Picassa, Dropbox and Evernote. Brother has suggested a price of £174.00 for this product.
http://www.brother.co.uk/g3v1/g3.cfm/s_page/215760/s_level/36230/s_product/MFCJ4510DWZU1