Samsung ML-2955DW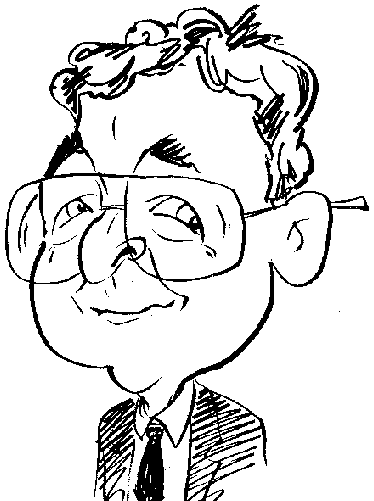 This next product arrived with a two-pin power lead which was hardly the best start. Fortunately I was able to work round this problem.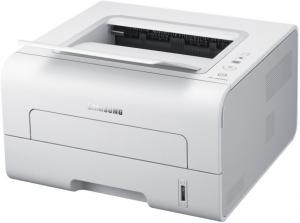 click image to enlarge
The Samsung ML-2955DW is a mono laser printer. The "D" and "W" designation part of its title refers to its Duplex and Wi-Fi capability. This mono laser gives the user a choice of Ethernet, USB or Wi-Fi connectivity with you providing any leads (other than for mains power) that are required. Rather than the matt and glossy black used for the previous Samsung laser printer I checked out, this ML-2955DW takes us back to the old days when computer or battleship grey was the compulsory colour for the computer and its peripherals.
Despite the rounded corners and ribbed side panels, this solid looking device is hardly likely to win any beauty contests but then that is not its purpose. Instead this device has been designed to provide users with the ability to produce mono documents at a speed rated at 28ppm with double sided printing. The printer is powered by a 533MHz processor with 64MB of memory.
Although the unit's dimensions are a reasonable 348 x 196.5 x 338mm (W x H x D), some extra space will be required when deciding where to position this printer. Any leads, including the necessary one required for power, tend to jut out from the rear of the device. You will also find that you will need to ensure that space is available at the rear of the printer for the paper input tray which forms the base for the unit. This is because the tray will need to be extended so that it juts out from the back of the printer when certain paper sizes, such as A4, are being used.
The paper tray can hold up to 250 sheets and features a small window at the front providing feedback as to the level of paper remaining. Printed documents are deposited at the top of the unit where they rest against a flip-out flap. Up to 150 sheets can be stored here for quick and easy collection.
All the various controls and feedback options for this printer are concentrated in a small area on the top right side of the unit. There are buttons for power, cancel, WPS (Wireless Protected Setup) and Eco mode plus LEDs for toner and status feedback. With Eco mode you have the option to adjust the amount of toner used, a bit like draft mode used by inkjet printers, and fitting two reduced size pages on a single side of paper when printing large documents. Estimates of possible savings are shown on the Print dialogue box when using Eco mode.
The ML-2955DW is supplied with a starter toner drum cartridge with 1000-sheet capacity. As the review unit arrived with the cartridge already in place I can not comment on how easy it is to install but I should imagine it would be a straightforward procedure.
When setting up the ML-2955DW, a software CD is provided. This does include a PDF version of the User Guide. The installation procedure was hardly the quickest I have encountered. In fact I thought the procedure had hung at the initial splash screen but it eventually moved on and progress was made although I did encounter a problem when opting for a Wi-Fi set up. The program insisted on a USB connection being made before rejecting my choice of Wi-Fi network as being unsuitable. The installation did, however, agree to accept a guest account on the same Wi-Fi network. This is not a problem I have encountered with other printers including one from Samsung.
Among the user-selected print options, the ML-2955DW gives you a choice of Normal or Best quality. I was able to duplicate the printer's 28ppm rating when using Normal mode with a 540-word document. Switching to Best mode reduced to the output to 27ppm. There was a slight darkening in the print quality with Best mode. As mentioned earlier, this printer has a Duplex option. However this is a manual procedure which means the printer pauses after printer the odd pages so that you can replace the paper so that the even pages can be printed. While text printing is this unit's strong point, images are handled reasonable well with a full A4 monochrome image being produced in 9 seconds.
The Samsung ML-2955DW would suit a small office or home user whose printer output was predominately monochrome documents. You have a choice of connectivity options and the only real disappointments are the Duplex feature requires manual assistance plus having a two-stage shut down procedure. Samsung has priced the ML-2955DW at £139.99 however Amazon are currently advertising this product at £110. The 1500 cartridge will cost £43.34 while the high yield 2500 cartridge is listed at £57.85.
This printer can be used with either Windows or Mac systems. Windows users will require a 400MHz processor, 64MB of RAM and 600MB of hard disk space with Windows 2000 and later. For Mac user a PowerG4 or better with 128MB of RAM and 1GB of hard disk space running Mac OS X 10.4 will be required.
http://www.samsung.com/uk/consumer/print-solutions/print-solutions/mono-printers/ML-2955DW/SEE