Canon Pixma MG6250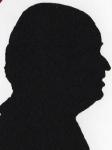 Review controls
In the mass market Canon are best known for cameras and ink jet printers. For the professional photographer it's the DSLR camera, for office users it's possibly their laser printers. Here an All In One that can suit home or small office.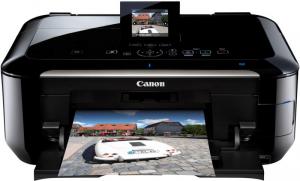 click image to enlarge
The Canon Pixma MG6250 all-in-one measures 46x38x16cm, you will need another 10cm on top of the 46cm depth when you have photo paper in the back upright tray. You probably need 10cm on the 16cm height for that purpose as well as placing items on the flatbed.
The power lead is inserted back left while USB is inserted back right. The front right edge has a USB port and behind a door on the curve of the right front edge are three card ports that accept most common card types.
The controls are all on the lid of the flatbed and are all touch. There are three soft buttons in front of the centrally mounted TFT and the ubiquitous five position joystick just in front of them. The only other button is on/off towards the left front edge. In use on the front edge are a single blue vertical LED to denote it is switched on towards the centre and towards the right side again on the front a wireless signal LED.
The TFT blanks after a couple of minutes without use. Touch a button to bring it back on. The 'Home' screen has three icons above the soft buttons Copy, Photo and Scan. Press the Copy button and you get the standard copy screen showing paper size, magnification/reduction and number of copies. Press the Photo button and it looks for either a memory card or flash stick if neither is found you are invited to insert one. Press the Scan button and you get the option to either scan to PC or to a USB stick. All the choices have further choices.
Canon have long had some of the best PC software around and in recent years they have grouped it all in 'Solutions Menu' where a novice can do everything I have described in the paragraph above and more from the PC.
So for instance scanning an A4 image can take as little as 15 seconds and not a great deal more for an OCR image, both these tasks of course depend on the software you are scanning to. For example it will default to WordPad to show a quick OCR result.
Copying is always best done direct from the unit not least as you have to be there to place items on the flatbed. I found a monochrome A4 copy took only 6seconds and a colour one just on 12seconds, great for one off jobs.
Printing for most will still be the main use of an All In One product. This unit has a 100 page tray in the bottom of the unit and a back 'sit up' tray at the back. The default settings mean that photo paper has to be inserted in the back tray. I will say more on the various options in a bit.
Printing my nonsensical 200 word document gave a 15PPM figure while the more normal 1500 word document came in at a tad over 12PPM, both have good sharp finish and were black. Printing A4 borderless images on photo paper took around 90seconds, the quality was excellent. If you print on matt photo paper it takes around 25% longer.
There are five common printing options available from properties Standard, Photo, Business, Paper Saving and Envelopes. Print qualities are High, Standard and Fast. Other front screen options are choice of paper size and paper source.
Another certain winner from Canon this six ink unit seems in my tests to be a little heavy on yellow ink compared to the other two colours, grey seems little used and of course there are two (large and small) blacks.
Doing my searches found the Canon Pixma MG6250 at a best price of £186.38 including delivery.
http://www.amazon.co.uk/gp/product/B005IUUXHW?ie=UTF8&tag=gadge0a-21&linkCode=as2&camp=1634
www.canon.co.uk/For_Home/Product_Finder/Multifunctionals/Inkjet/PIXMA_MG6250/index.aspx?specs=1