Canon MX410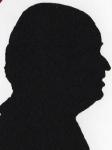 Review controls
This is a multi function unit as not only does it print, scan and copy it can also be used to send and receive faxes. What I would like to know is does anyone still send and receive faxes, surely everything is email today.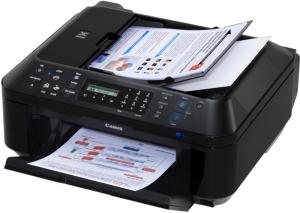 click image to enlarge
It is 44x40x20cm to the top of the ADF but you will need another 17cm to the last figure the height to insert a stack of A4 in the rear vertical tray, that should also allow you to place anything on the flatbed of the scanner.
There are a total of 31 well marked buttons on the front edge of the unit to control it along with a 6cm long two line display. The front drops down to form a paper output tray and as it does not go entirely to 90 degrees output tends to stay in the tray rather than spill out over the desk.
You can install this either as a USB printer or as a Wi-Fi one for PC printing it makes only minor differences but for printing from handheld devices such as phones etc the latter is extremely useful and it works very well.
Considering the price of this is less than £100 you get a lot for your money. Yes it is a four ink but only a two cartridge unit so if you use one of the three colours more than the other two then you could have left when a replacement is required.
As always my text printing tests are done using the Fast (rather than Normal or Best) and the output quality is quite acceptable. In fact with the new test speeds quoted now not being slanted towards a specific document I can even print quicker than the quoted speeds.
The 200 word document comes in at 12PPM while the 1500 word document (spread over four pages) is just over 8PPM.
Printing an A4 image (or four near 15x10cm images) on a single sheet of photo paper is the exception as this is done in Best mode, this takes a tad over 2½ minutes, the printed page emerges fully dry and quality is excellent. I found that 15x10cm images printed in less than 45seconds.
With most units I then say that copying can be done without the PC being switched on or even connected and indeed this is still true here but you can also scan in this method if you send the output to a USB stick, could be useful.
Copying times were not that fast at 20seconds for an A4 page in monochrome and close to 40seconds for the colour equivalent, however output was good and exactly what was asked for an identical copy, the unit of course can enlarge and reduce etc.
By default it scans to PDF and the time taken from pressing the scan button till a PDF file is opened on the PC is 90seconds.
Canon have excellent software and their Solutions menu will open by default as soon as you boot the PC however you access the individual parts from a pop up list in the tray, so easy to access as well as easy to use.
Some of the other features include sending and receiving faxes, Web printing and the ability to print a still from an HD movie.
I cannot remember a poor Canon printer and this together with their Solutions Menu software is certainly worth considering, as always with this sort of unit you must factor in the cost of replacement inks.
The Canon Pixma MX410 is available from the first link below for £74.37 with free delivery. The second link has lots of specifications and includes the print speeds.
http://www.amazon.co.uk/gp/product/B004N5J9SM?ie=UTF8&tag=gadge0a-21&linkCode=as2&camp=1634
http://www.canon.co.uk/For_Home/Product_Finder/Multifunctionals/Inkjet/PIXMA_MX410/index.aspx