Fujitsu ScanSnap S300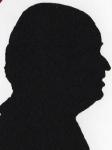 Review controls
The first question I asked myself is why anyone would buy a stand alone scanner when there are perfectly good general scanners that are included for very little extra when you buy a perfectly decent All In One unit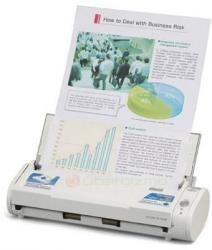 click image to enlarge
Another minus is the extra space required, well lets cover that instantly this page scanner is 28x6.5x9cm when closed. In the open position the figure the depth increases by 7cm and the middle figure the height increases by 13cm with the supports raised to allow A4 sheets to be loaded, the sheets themselves are 15cm above the support but still sit perfectly positioned ready for you to press the one and only button on the unit 'scan'.
So size is in its favour as is speed as a sheet passes through and is processed in five seconds, unlike most flatbeds in an All In One where the lamp needs 'xx' seconds to warm up and then after the pass work on the PC before you get an image, then you need to tell it what to do with it, image, OCR or save and possibly – with some – the option to save to a PDF file. Here the latter can be done automatically and you have no real decisions.
There are three connections on the rear the supplied mini USB lead, the power adapter and possibly most importantly because of its size a Kensington lock port to stop it disappearing into a poachers pocket or to another department.
The power lead is over 3metres in length and the supplied USB is around half that but both are considerably longer than most these days.
It is also a duplex scanner and I cannot think of any flatbeds that can do that, yes there are some All In Ones that also come with a page scan facility fitted on top of the unit and a few of them can scan both sides of a document, but they are few. This unit can scan 16 double sided pages a minute as long as you can feed the pages through.
The software provided works with Windows XP, Vista or 7. I tested it for a good period on Windows Vista. But I also tried it on a Windows XP Netbook and just to be sure on a Windows 7 system all installed without problem.
Four folders are created ScanSnap Manager, ScanSnap Organiser, ScanSnap Paper Port 11 and Card Minder V3.2.
The first two mentioned packages are the reason that even a low powered Netbook can allow a good flow of images can be taken through the scanner without appearing to hog 100% resources and allowing things to work.
Paper Port is of course a Nuance product who controls a good amount of all the scanners around with one or others of their products.
Lastly Card Minder a business card reading package and this application could be another reason to purchase the scanner. The side supports of the scanner can be pushed in to allow a stream of single and double sided cards to be read. You will need to check the correct scanning as these days business cards do not conform to any single standard and names, job title, company appear at various places and it can sometimes get confused. However it is certainly a lot easier and less prone to error to edit a field or two rather than transposing everything by copy typing. A single character wrong or transposed in a phone number or email can be disastrous.
This unit is not cheap and is somewhat specialised but should you require duplex and scan a lot of the time it is certainly worth considering.
Doing my Internet searches found The Fujitsu ScanSnap S300 at a best price of £176.90 from the first link below.
http://www.amazon.co.uk/gp/product/B000Z7TJVE?ie=UTF8&tag=gadge0a-21&linkCode=as2&camp=1634