HP Multifunction Unit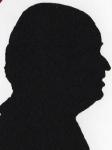 Review controls
I have been asked numerous times why the reviews of HP items suddenly stopped. The reason/excuse I was given by their then agency is too far fetched even to print. Now with a new agency I hope to be able to tell you about the current range of printers.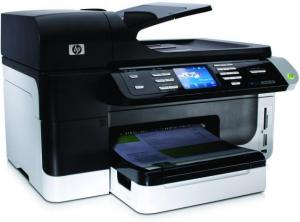 The HP Officejet Pro 8500 is certainly no beauty but it is very fast and certainly an Office unit. It is black with white sides and even my total lack of style tells me this is certainly a lounge no no. It is 48x42x30cm andit weights a tad under 12kilos.
This is a multi function unit as not only does it print, scan and copy but it also can send and receive faxes. The software comes on a CD and it took around 22 minutes to install on a reasonably fast XP system at the end I was 474MB of hard disc space down.
All the controls are on the front of the unit a total of 24 buttons all positioned along an overhanging lip around a 7x5cm TFT screen. The bottom of the front has a good capacity paper tray (250 sheets) and to the right of this four card slots and a USB connection that is not only Pict Bridge but also has the ability to read plain USB sticks so documents or images can be transferred and printed without having to have a PC connected or attached. The figures given above include the bulge at the back for the Duplex unit.
Talking of connection this unit can be connected via Ethernet, Wireless or USB I went for the latter simply because it is still the most popular. This is a four ink offering black. Cyan, Magenta and Yellow.
As a printer I was pleasantly surprised with the speed. Printing the nonsensical 200 word document that all manufacturers seem to use found it spitting out copies at 2 second intervals all a nice sharp black so all but 30PPM for once I am happy to say very close to the claimed 'up to' speed. Printing a more normal 1500 word document spread over four pages this came in at 22PPM and again crisp black letters. All these tests were using the draft mode.
Printing photos both A4 borderless and four images on an A4 sheet came in at an ok speed of 3minutes 45 seconds. Quality for a four ink printer was quite acceptable. Before I go on to mention the other functions a few words about the rather nice print time interface that has undergone some changes since I last saw an HP unit.
Printing Shortcuts is the first tab with the options on the left side, General Everyday Printing, Two Sided Printing, Presentation Printing, Edge to Edge Brochure Printing, Poster Printing, Booklet Printing, Photo Printing Borderless, Photo Printing with borders, Fast/Economical Printing and Factory Defaults. To the right of this is the current setting for each of these types. Paper Size, Paper Type, Print Quality, Print on both sides, Pages per Sheet, Orientation. Next tab is Features with ten choices and the final tab is Advanced with six further choices. Very nice easy to make choices when you know better than to accept the default options.
As a copy device it takes around 15 seconds to copy an A4 page in black and around 20 seconds for the same in colour.
I have my doubts how relevant a fax is today, maybe it still used in large offices but most small office or Soho users I have spoken to seem to use it only a little. I still get sent agreements that say ''fax back on 'then a phone number'' however I always email and I cannot remember the last time anyone said this will not do, after all a signature that is faxed or emailed is just as relevant. However the fax portion still works should you need it.
As a scanner you can use either the flatbed or the page feeder and scanning works just as well from either units. The flatbed of course is the one that pages from magazines or books will be scanned or copied on as keeps the item intact, whereas using the page feed is ideal for single sheets that are not clipped together.
Doing my Internet searches found the HP OfficeJet Pro 8500 at a best price of £249.64 including free delivery from the first link below.
http://www.amazon.co.uk/gp/product/B001T9NFSU?ie=UTF8&tag=gadge0a-21&linkCode=as2&camp=1634
I found the HP OfficeJet Pro 8500 is available for $259.99 including free delivery from Amazon.
http://www.amazon.com/gp/product/B001PM6RX6?ie=UTF8&tag=gadge0a5-20&linkCode=as2&camp=1789
I found the HP OfficeJet Pro 8500 is available for €280,47 including free delivery from Amazon on the link below.
http://www.amazon.fr/gp/product/B001UQZ710?ie=UTF8&tag=gadge04-21&linkCode=as2&camp=1642&creative=6746&creativeASIN=B001UQZ710
http://h10010.www1.hp.com/wwpc/uk/en/sm/WF06a/18972-18972-238444-3328086-3328086-3752454.html