Epson SX600 FW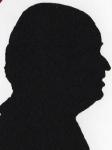 Review controls
This is a multi function machine (includes fax) that can be connected via USB or wirelessly. My own opinion is that very few still use fax but as these machines (with fax) are still produced I must by wrong.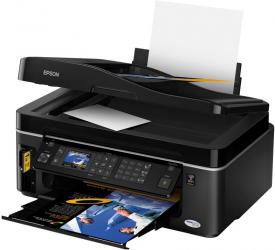 click image to enlarge
The Epson SX600FW multi-function unit measures 47x39x22cm the latter figure the height will increase by around another 9cm with A4 paper loaded in the rear vertical position. With the control panel tilted up this adds 4cm to the second figure the depth. It is black so it will pass very few of the lounge police.
The top has both a flatbed and a sheet feed and in a very nice touch the sheet feed can be closed to produce a nice flat top when not required. The control panel has a total of 33 touch buttons and a 5x4cm TFT display.
All the connections are on the left back edge, that's from the top phone line, extension line, Ethernet and USB with the power insertion point in the centre of the back. Unlike some units with fax you can turn this unit off and do not have to resort to pulling the plug, but pressing the on/off switch you have to go past a warning (needing a yes/no answer) that you will not be able to receive faxes.
Lets deal with fax first I was able to send and receive without any problems and providing there is enough paper in the small back tray any received will be printed out waiting for you return.
Scanning next, the lid of the page feed folds shut so that you have a near flat top it opens and provides a shelf so that multiple pages can be ready to be scanned (or copied) but of course for items from books of magazine the flatbed will be required and providing the lid keeps out most of the external light a good copy will be produced. I deliberately gave it a somewhat crumpled page to work with and although you could see the marks on the page the text was still very clear and an excellent image was produced and the OCR coped well (far better than most) with the output produced from the Epson Scan software it has lots of choices up to 1200DPI from its front screen.
Most All In Ones have the ability to work without the PC being on or connected as a scanner and this multi function device does copy (also send and receive faxes) without any recourse to the PC. This unit also can work with photos that are stored on xD, SD/MMC, MS Pro, Compact Flash/Micro Drive. It also works with Pict Bridge and the USB socket also has the intelligence to work with stick/pen drives. In fact only ten seconds after switch on you are shown a three choice screen on the TFT fax to the left copy (default) at the top and photos to the right. Insert a card or stick and it will immediately read the photos on it.
Select your choice by pressing the 'ok' button and you are met with another screen in the case of Copy it allows you to select number of copies, Colour or B&W, Density of print, Paper type and Quality all from that single screen, other options are available from 'Settings'. This is the nearest thing I have seen to a standalone copier in a multi function unit. Printing three B&W A4 copies took 30 seconds and the first 15 seconds was for the flatbed to scan the output so once past the first copy that's 5 seconds a copy excellent.
Finally printing via Windows, here there are two tests the 200 word nonsensical document that produced somewhat grey text in draft mode at 20PPM and the more normal 1500 word document (spread over four pages) that produced the same grey text at 17PPM. Printing in the more normal Text mode produces excellent sharp black text at only around 20% slower. However all the time manufacturers make claims about printing speeds I must do my best to get to these.
With ever faster image printing times I was somewhat surprise by the six minutes 33 seconds taken to print an A4 image in best photo mode of quality photo paper. It was however an excellent print with good colour quality and depth and it was totally dry.
I used this as a USB printer but as well as the Ethernet mentioned it is also a Wi-Fi printer so if you still have a need for fax this unit ticks all the boxes. I just doubt the need for fax today.
Doing my Internet searches found the Epson SX600FW at a best price of £129.99 including free delivery from the first link below. This has gone up in the last few weeks from £109 so I have reduced the value for money score from 3 to 2.
http://www.amazon.co.uk/gp/product/B001EHF922?ie=UTF8&tag=gadge0a-21&linkCode=as2&camp=1634
Doing my Internet searches found the Epson SX600FW available for $184.98 including free delivery from the first link below.
http://www.amazon.com/gp/product/B001DJ9JF4?ie=UTF8&tag=gadge0a5-20&linkCode=as2&camp=1789
Doing my Internet searches found the Epson SX600FW available for €156,74 including free delivery from Amazon on the link below.
http://www.amazon.fr/gp/product/B001EASRTG?ie=UTF8&tag=gadge04-21&linkCode=as2&camp=1642
http://www.epson.co.uk/printers/durabrite_general_printers/Epson-Stylus-SX600FW-printer.htm