A Double-Sided Scanner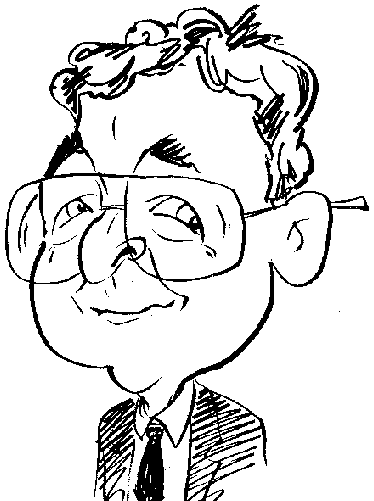 Review controls
While a multifunction device can cover a range of eventualities, sometimes you just need the scanner element.
Buy Now
Fujitsu ScanSnap 300
£179.99 from PC World

£225.9 from Amazon
incl shipping


£230 from DABs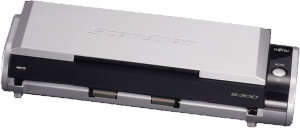 The popularity of multi-function, or all-in-one, devices has resulted in a drop in the number of standalone scanners available in the market. Rarely does a standalone scanner cross my desk but this is one of those occasions with the arrival of the Fujistu ScanSnap S300 product. However this is not a flatbed model but a page or document scanner.
While this type of device does not allow you to scan a page from a book or 3D object, you can scan single pages which is often all that you want to do anyway. This type of scanner is also less demanding when it comes to its footprint on your workspace. With its dimensions of 284 x 95 x 77mm (W x D x H), the Scan Snap S300 takes up around 25% of the space that a flatbed model would require. This scanner also has the ability to draw power from the mains or via a second USB connection. Leads are provided for both methods plus the standard USB cable of data transfer purposes. Factor in the weight of the unit at 1.4kg, along with its size and ability to draw power from a notebook, and you could conceivably use the ScanSnap S300 in various mobile situations.
Fujistu supply three applications with this scanner. You get ScanSnap Manager, ScanSnap Organiser and CardMinder. This software needs to be installed and the system rebooted before connecting the scanner to the host computer. Rather than a dedicated on/off switch, the ScanSnap S300's paper chute lid doubles as this feature. Raise the lid, with its adjustable paper guides, and the device is turned on until you close the lid. The ScanSnap S300 can handle business cards and sheets of paper up to A4 size with up to 10 sheets being loaded in the ADF (Automatic Document Feed) facility. The scanner also has the extremely useful facility of being able to scan both sides of the document at the same time so speeding up the actual process.
Document scanning, whether single or double sided, is quick and can be activated by pressing the Scan button on the unit. Data is then transferred to the Organiser module in PDF format displayed either as a list or thumbnails. With the latter, multi-page documents are shown as a stack and you can cycle through the different pages. You can either view the content in Adobe Reader, if available, or with the supplied viewer. Content can be saved, sent to the printer or circulated via email.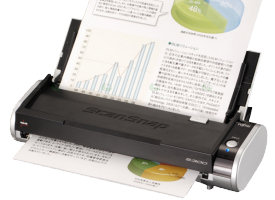 As part of the scanning process, the software can instigated an OCR (Optical Character Recognition) process using technology licensed from ABBYY. The Fujistu software is intelligent enough to be able to detect and remove blank pages plus rotate images when necessary. ScanSnap S300 also claims to be able to create searchable PDF files. Unfortunately I was unable to test this feature as the Search button was permanently greyed out. I had to access the Help file before I discovered the reason for this. The searchable PDF option requires the presence of Adobe Acrobat 7.0 or later - software which not everybody, myself included, has on their system.
For business card scanning, ScanSnap S300 has CardMinder. This software prove to be very efficient at extracting information from business cards in a variety of layout formats. The information is then categorised under appropriate headings.. Options are available to send this data to Microsoft Outlook, Outlook Express, ACT!, Goldmine or CSV format.
The ScanSnap S300 is more suited for a business environment rather than a home user and this is reflected in the product's price point. The ScanSnap S300 has a £229.99 price tag. System requirements are a 1.73GHz processor with 512MB of RAM (1GB for Vista) running Windows 2000 or later. As mentioned earlier Abode Acrobat 7.0 is needed in order to access the searchable PDF feature.
The best price I've found is from PC World for £199.99 including delivery
Amazon's best price is £225.39 including UK delivery.
Dabs price is £230 (including shipping)