CardScan Executive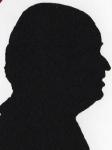 Do you get a lot of business cards? If so when you transfer the information it's so easy to transpose a couple of numbers in a phone number or a couple of letters in a email address. Here help could be at hand.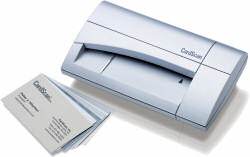 The CardScan Executive is a maximum of 16.5x10x4cm, silver grey in colour and will accept a maximum 10cm width card. It can scan both portrait and landscape cards. While the card unit is easy to use it is only a rather good scanner that enables you to easily scan information from business cards. The all important part is what happens to the details and this is all controlled in software.
Like most good products it is very easy to use, place the card face up on the unit it is pulled through, you then repeat this for as many cards as you wish to scan then press the process button. This OCR's the cards and then shows you the card and what it has made of it for you to verify.
I gave it a selection of cards and around 80% were perfect. Please remember the layout and information of cards is not only in different places but the same things are often called different names. As an example mobile or cell for a mobile phone. Maybe another 12% only needed a slight tweak and this left 8% that for some reason a detail is read wrongly (normally truncated) and then it would appear at the bottom as 'Other'. A few phone numbers fell into that category and often the @ sign in an email address caused a problem sometimes ending up as a website address.
The sample I selected was fifty cards and these were read in only a few minutes mainly the time it took for me to feed them through. The processing of each card was only a few seconds. The verification took a little longer according to the layout and amount of information. Should the card have details on both sides - a lot do when the person travels abroad - then these need to be fed twice.
The way it can tell a phone from a fax number - it only got it wrong once in my 50 samples - can only be down to the brilliant coding of the software. However the biggest joy was yet to come the amount of packages that you can export the data to.
Act!4 to Act! 6.x, Act!2005 or later, Day-Timer Organiser 2000, Gold Mine 5 or later, Lotus Notes 4.6 or later, Lotus Organiser 5, Lotus Organiser 6, Maximiser Enterprise, Microsoft Outlook 98 or later, Microsoft Outlook Express 5 or later, Palm Desktop 3, Palm Desktop 4.1 or later, Time and Chaos 5.x It can export and import comma delimited data.
I use Organiser 5 and once you tell it where the file is that you want data transferred to that's it. A few seconds later the date is there and it seems to do it without opening the program (Organiser 5 is a slow loader) but when you check - as regular readers will know I am a belt braces and safely pin person - all the data has been transferred correctly.
CardScan itself keeps a copy and you can check back today, yesterday, last week etc and see what cards it has processed.
CardScan are so certain that you will love it that they offer a 30 day money back guarantee, no questions asked.
Integrated is a free copy of At Your Service that can be used to back up data onto the WWW.
This product surprised me with the ease it selected data from the correct field on the card wherever it was written.
Doing my Internet searches found CardScan Executive for a best price of £182.48 from the first link below. There is also do CardScan Personal if that is more likely to suit your needs.
http://www.dabs.com/productview.aspx?Quicklinx=49NQ
http://www.cardscan.com/products/core_contact_mgmt/executive/index.asp