HP Photosmart 385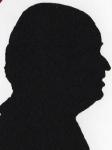 A small printer for printing photographs either from various card types, direct from the printer via (Pict Bridge) cable, from a PC via USB or even direct from a PDA or phone via Bluetooth.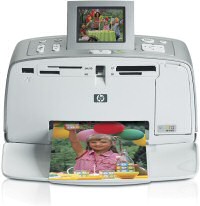 In that list I did not mention standalone USB sticks or hard discs but they will normally work as well, using the Pict Bridge connector as the Photosmart 385 has a screen for selection of images, however some external devices can have a capacity two large for the internal memory to read so you are unlikely to be able to read a 5GB hard disc full or images.
The printer is 21x12x11cm and weights only 1300 grams. The only external connection required is the mains adapter, once this is plugged in press the on button and not only does the unit turn on but the rear paper tray moves back and the viewing screen moves from the horizontal.
There are nine buttons and a five position 'select photo' button to control everything. Once the front exit tray is down this reveals the four card slots for Smart Media and XD, MS, Compact Flash (inc Micro Drives) and SD along with the Pict Bridge socket.
In the simplest scenario place some photo paper in the rear - if you are using selvedge sheets place the selvedge end at the top - place a memory card with images in the slot at the front. The printer reads the card and tells you how many images it has found before displaying the first on the screen. Select one or more images and then push the print button.
Around 110 seconds later you will have a printed image on the tray. By default the first 20 seconds is spent looking for and rectifying Red Eye and then the next 90 seconds printing the image.
While 10cm is the maximum width this printer can handle it can print panoramic scenes by using longer sheets of paper. These are 30cm long and by altering a setting from the printers internal menu it can print on these.
In fact you are not limited to printing one image on basic sheets this choice can be made from the layout menu. It is also possible to zoom into part of an image and just print that so although this only prints - by default - 15x10cm images it could be just a small part of an image that is reproduced. Should you try to select a portion of am image that will not stand that amount of magnification you will be warned of possible pixelization.
For anyone not wanting to print larger than 15x10cm then this is very easy to use and the default Red Eye removal could be very useful for the novice. Other editing functions can be carried out on the unit, you can print borders and other modifications it is even possible to print stills from video images. This is not so much a portable printer as a portable photo lab.
For those with a PDA or mobile phone this unit is supplied with a Bluetooth adapter - looks just like a standard USB stick drive - and once the image is selected on your device just send it to the HP Photosmart 385 and it's printed.
Doing my Internet searches found it at a best price of £89.99 inc p&p from the first link below.
http://www.amazon.co.uk/Photosmart-385-Compact-Photo-Printer/dp/B000A3P3VS

http://h10010.www1.hp.com/wwpc/uk/en/ho/WF05a/5043-5683-5807-5807-6516529-12113592.html