Powerdesk Manages Files

PowerDesk is the file manager that Windows Explorer should have been. It is easy to use and has a wide range of features that make it a valuable tool for the serious PC user. The recently released version 9 adds even more features and is also compatible with Windows 8.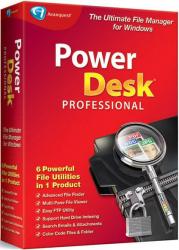 click image to enlarge
Even though it is more advanced than Windows Explorer the interface is straightforward and the basic search, find, delete, copy and move file management tools are easy to use. In addition, there is the Go menu that enables one to navigate directly to a specific folder. The file viewer, which supports a very large range of file formats allows one to view the contents of a file in a preview pane or as a thumbnail even when one does not have the original software. One can also search for text in the file viewer. Then, having checked that one is dealing with the correct file(s), the dual-pane display makes it is easy to drag and drop files between folders and drives.
In addition to these basic tools, PowerDesk allows user-added notes of up to 1,000 characters can be associated with each file. The start of each note can be displayed in a "Notes" column in the Details view with Ctrl-N then bringing up the full note.
The file finder can carry out a search just based on filename or a more complex one based on a number of criteria such as drive letter(s), paths, wild cards, attributes (such as read-only or hidden), range of dates and times, size, file types as well as searching for text within the file. Results are listed in a detailed format so that it is a straightforward task to identify the one that is required.
Other file management tools included are the Compare Folders tool which enables one to identify and then remove duplicate files, and the Sync Manager which compares and synchronises the contents of two folders. This is useful as a back-up tool as well as when working on files shared between two computers.
While the Archive Manager can extract archives in a wide range of formats it uses the ZIP format for compression. There is an option to select the degree of compression with the greater the amount of compression, the longer it takes to generate the archive file.
In terms of security PowerDesk offers DES encryption, a file shredder which removes all traces of a file as well as password protection of zip files. These together with the temp and junk file remover and the facility to clean out the record of browser and surfing activity, will give one an added degree of security and confidence.
Overall, PowerDesk 9 is a convenient and versatile file management utility which will both save time and effort when doing all these so necessary housekeeping and related tasks. After using it for just a short while, it will become an indispensable tool. It is available for download from Avanquest priced £30.62.