PagePlus gets more versatile

Serif's PagePlus X5 is the latest upgrade of a well-established DTP program that already meets a great many user needs ranging from business and Christmas cards through to multi-page documents. A large number of individual improvements have now been made in this new version that, overall, enhances its versatility and ease of use.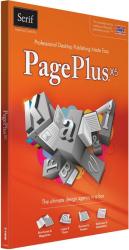 Even when installed on a Windows 7 machine, where many of the newer applications will employ the Ribbon interface, it still has a traditional look. This makes upgrading from previous versions a straightforward task as well as being very convenient for those users who are conversant with Microsoft Office 2003 and earlier. This is particularly useful as PagePlus is widely seen as the DTP for business users.
Overall, Serif has aimed at making the program, despite its wide range of feature and facilities, easy to use. For example, the use of layers has been enhanced to give the user a greater flexibility in developing a publication. Tabs now include a wider range of controls. It is a simple task when using tabs to switch between two or more open documents. This is ideal as it is common practice to use a previous issue of a newsletter or other form of document as a template. In this context there are a wide range of design templates that will enable even the inexperienced to produce acceptable results rapidly even if you don't want to employ a specially designed one.
The online tutorials both enable a new user to get started with confidence as well as helping the more experienced to extend their skills and so make the most of the program versatility.
For example, in X5 the master page control has been improved so that it is now possible to use mixed numbering formats e.g. Roman, Arabic or even alphabetic. This makes the production of complete complex publications far easier. Similarly, portrait and landscape formats can now be mixed so that tables and wide charts can be readily accommodated.
The text editor is now compatible with Word 2010. This is ideal as the original copy has often been prepared in Word and then needs editing for content when 'going to page' and prior to applying any or some of the full range of typographic features available in the program. The Fonts tab enables the user to search for and review currently installed fonts as well as previewing them in situ.
The software supports a range of output options for in-house use, mailing to external users as well as sending to an external print shop. These include PDFs, duplex (double-sided) printing and colour separations. Hence, irrespective of whether just wants to print a few or many, your needs are catered.
PagePlus X5 will probably meet the needs for virtually every small business and club as well as the individual who wishes to produce attractive looking output of a form which is beyond the scope of a word processing package. Priced at £81.69 on the Serif Web site, it is available from Amazon for just over £50. This is a remarkably low price for an extremely useful DTP package which has too many features to list.