WIZ LED Lights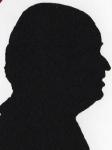 So many of these latest crop of bulbs have screw fittings and even if you have a suitable fitment they tend to be too fat to screw in, so when I was offered a pair of Bayonet fitting units that can be used either with a SmartPhone App or a remote control I said yes please.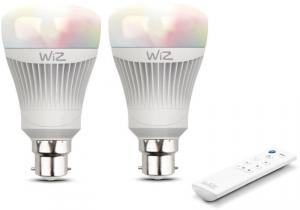 click image to enlarge
The bulbs themselves are about the same size as a 60watt filament bulb but do weight around three times as much. If you fit one in they will turn on normally with a white light but the magic happens when you use the supplied remote control or even better with the SmartPhone App as you then have any shade of white or any colour you want you can even set them to strobe - ideal for a party.
Being LED the light power drain is far less than the equivalent filament bulb so you pay less in electricity costs.
The WIZ download is in both iOS and Android App store. Download it, link it to your Wi-Fi, name the room with the bulb – it can support several – and then start the link by turning the light switch its connected to on/off several times in rapid succession the bulb will then turn blue and then the link is completed. Whatever shade of white or colour you turn the switch off in will be what it lights up in next.
The big advantage these WIZ bulbs have over other multi shade/colour offerings is that they will fit in most fitments as well as standard drop down fittings. A lot of desk lights or other small units come with the shade fitted and if the bulb has a fat neck then they will not make the connection be it screw or bayonet.
Being able to get the exact colour or intensity of light for any situation means that a single bulb is right for all occasions.
The supplied remote control is 13.5x4x1.5cm and requires two 'AAA' batteries not supplied. It has eight buttons all well described including four that have programs associated. However this is only a tiny fraction of the choices that you have with the App but it does mean if the person who has the SmartPhone is not around you still have a proportion of the features available.
I was sent a two pack of bulbs with the remote so once the bulb in a room is named this has its own settings in the App.
Anyone with difficulty sleeping will know bright white at night is a definite 'no no' and in fact a red light is something that encourages you to get towards sleep.
The Wiz box states that 64,000 different shades of white are available as well as 16,000,000 colours.
The simple linking instructions are on the box as well in a leaflet inside the box and for good measure on a fixed card insert.
The bulbs have an equivalent light output to a standard 60watt filament bulb and are 'A' rated.
The bulbs themselves come with a seven year guarantee. It is possible to have bulbs turn on/off when your home is unoccupied. You can also voice control via Amazon Alexa.
The Wiz Colours (2 pack) with remote are available from Amazon for £69.94, including free delivery.
Technical details can be found on the Wiz web site.