WAHL Hair Trimmer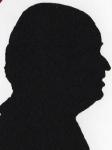 A visit to a barber between Liverpool Street and Old Street for a totally new brand to me had a presentation for a 99 year old company found me leaving after a very pleasant haircut from a barber at a shop called Ruffians and with a sample of the WAHL hair trimmer to try out in my own home, and before you ask the barber did use one for part of the haircut.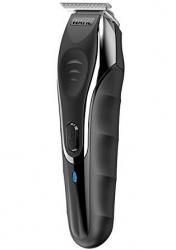 click image to enlarge
To give it the full name on the box it's the Aqua Blade Wet/Dry Stubble & Beard Trimmer.
It weighs 150 grams and is 16cm from base to tip 4cm wide near the head and 3cm deep at the same point.
8cm up from the base is the single on/off button. Just below this is an LED, the two pin power lead plugs into the back 2cm up from the base. The unit is matt black with silver coloured trim curving up from the front to the sides starting just below the on/off button. The sides are a ridged rubber which make it very grippy (my spell checker still hates that word) when wet.
For something described in the title as a 'Stubble & Beard Trimmer' it is very well appointed as it has a removable 4cm wide head but eight different clip on combs and four different stubble guide combs.
While on the contents the box also has a 13amp plug with DC adapter built in and a 1.8metre lead to the small two pin connector to the shaver. There is also a soft two zip case 19x10cm, finally a 15x10.5cm 20 page instruction booklet that joy oy joys is single language and written in a font readable without recourse to a magnifying glass, two separate single page sheets 'avoiding hairline skin abrasions' and a small yellow sheet reminding the user that the blades must be kept cleaned and oiled.
While is designed to work wet or dry it is not possible to use it whilst it is charging hence the 13amp plug rather than the normal two pin plug often found on shavers as you do not get 13amp sockets in a bathroom.
However a quick one minute charge from total discharge does as stated give you three minutes shaving time and a full one hour charge gives three hours of use from its internal lithium-ion battery.
While my short hair was trimmed both by the barber and later by myself in tests with this unit it is primarily a beard and stubble trimmer so not designed for whole head use.
Swapping combs is simple and straightforward and during my tests without any comb attached I avoided any nicks but as I avoided use just after waking and followed the instructions that is no surprise.
By the time you read this WAHL might have just clocked their centenary and the exhibition they had of some early shavers was impressive and they were heavy to hold and also looked very dangerous to use.
This unit is designed for home – not professional – use and as such has a lifetime guarantee for the blade and five years for the rest of the unit.
Currently the WAHL Aqua Blade Wet/Dry Stubble & Beard Trimmers £89.99 price is available from Amazon at the reduced price of £59.99.