Travel Iron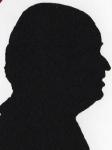 Occasionally I get the chance to stay in what is called a four - or even - five star hotel for a night and quite often I am left amazed as to how far standards have dropped, for instance finding a stained ironing board and iron in the wardrobe so when the opportunity to review a small traveling iron came up I said yes please.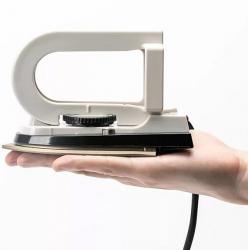 click image to enlarge
Don't get me wrong I am certainly not a snob and in normal circumstances only handkerchiefs and the occasional shirt get ironed but if one is in a top hotel you probably need to look your best for a dinner or other such event.
This is a light unit at only 441grams (less than one pound in total weight) in the 16.5x15.5x5cm box. There is also a drawstring bag if you prefer to take it in that way.
The iron itself is 12x7x2.5cm it comes with a clip in housing that keeps the plate off any surface for the times its still warm. It comes with a 1.5metre mains lead.
Now the clever bit the housing that can protect surfaces turns on its side and clips on top of the iron to provide the handle when the iron is in use this keeps your hand at least 6cm away from the iron itself.
There is a circular heat control that goes from Low through Mid to High.
The small amount of ironing I still do – in the home – is what I tested it on. This is not an iron for a family to use as for one thing it is not steam offering and if you need to create steam with this a damp cloth – the way we used to produce steam – is still required, but this is not sold as such an offering but as a travel iron and for those doing regular trips it is certainly a good solution to get rid of the creases bad suitcase packing can deliver.
I am sure those clever people at Brando have found another winner by marketing this iron with Dullbear as the name on the box.
The winner for me is how the stand swaps round to become the handle when in use of course care is required whilst the iron is warming and cooling but then it is an iron.
So if you prefer to iron items while away with an iron without stains caused by who knows what then this is a very clever piece of kit.
The Brando Travel Mini Iron is available from the link below for $43 US in Pink or White and there is free worldwide delivery.
https://lifestyle.brando.com/travel-mini-electric-iron_p19822c1772d135.html