Toshiba Canvio Alu external drives

The Toshiba Canvio Alu portable USB 3.0 hard drives, which form part of the company's Advanced range, are solidly built 2.5 inch units and are available in a choice of capacities from 500GB to 2.5TB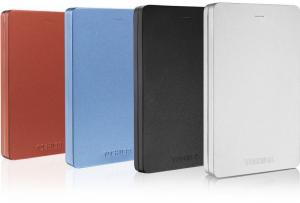 click image to enlarge
These drives are are in robust aluminium cases 113.5 x 75mm in size in a range of colours with a stylish white line running around the case where the two parts join. The two smaller capacities, 500G and 1TB, are 12mm thick and weigh 200g complete with the 45cm USB 3.0 cable while the 2 and 2.5TB are similarly 18mm thick and weigh 250gm.
The drives are easy to install and use even though the paperwork in the box is, to say the very least, sparse. In essence, it just showed how to connect the drive to a PC and then stated: "For details about your Toshiba product please refer to the User's Manual (uploaded on the drive itself) or online documentation which contains additional information". Hence, it really assumes that the user has some previous experience.
Having connected the drive to my laptop and read the two PDF documents on the drive I copied all three files on the Canvio Alu drive to the internal hard drive of the laptop prior to installing the supplied NTI Backup Now EZ software. This was a straightforward task.
After rebooting the laptop it carries out a scan of the whole machine and then a screen appears which offers Cloud Backup; File & Folder Backup and, finally; Complete System Backup. One is then offered the choice of backup location and How Often. Having made the appropriate choices one could initiate the backup.
The Job Status screen was quite pictorial with a block across the screen for each type of backup. It was easy to follow showing date, free space so that it was a straightforward task to set up an appropriate backup schedule. When a backup was running a percentage indicator of progress was shown. The activity LED showed through a narrow slot in the top surface of the drive and, while it was clearly visible when one looked, it did not appear to be a distraction.
It is not possible to provide any really meaningful ideas of backup speed as this essentially dictated by the slowest link in the chain. It worked satisfactorily on a laptop which only had USB 2.0 ports which is only one-tenth of the speed of USB 3.0. However, it must be recognised that a full system back up via USB 2.0, rather than USB 3.0, will be a long drawn out process.
Overall, this is a solidly built portable drive which is small enough to be stowed away safely or carried around dependent on user needs. A couple of minor points are that It would have been useful if there were tiny rubber feet to stop it skidding across the desk and, while the 45cm cable was perfectly satisfactory when used with a laptop, it was slightly too short to enable the drive to be conveniently used with a desktop PC.
While those who just have USB 2.0 will not be able to take advantage of the extra speed at present, it would be a retrograde step to just cater for today's needs and buy a USB 2.0 drive rather than a USB 3.0 drive. The 2TB Canvio Alu in black, part no. HDTH320EK3CA, will meet most user's needs and, priced at about £80, is one of the range being offered on Amazon.