Time2 Olivia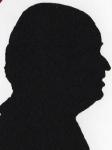 Review controls
A Wi-Fi security camera from Time2, this is an internal offering but I see this range of releases also has an external offering that I shall ask to look at when this one returns home. So what can this camera offer to help secure your home?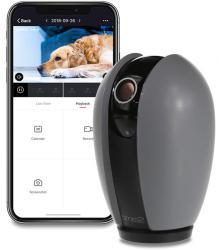 click image to enlarge
The camera is 9.5cm tall, 5.5cm wide and 5cm back to front. There is just one visible connection in the rear of the back of the unit a supplied micro USB cable.
Setup is just a matter of downloading an App from either the iOS or Android store and following the instructions, there is a small Start Up Guide supplied but it just duplicates the instructions in the App.
One thing not mentioned in advance is that you have to display the QR code shown on your phones screen to the camera so if the camera is to be located high up it is better to set it up before you finally position it.
Unlike most other cameras this unit can pan left, right, up and down directed from your phone meaning that you do not have to get the exact position right straightaway.
If there is enough light you get colour images and if not you get infra-red monochrome. As with all such units there can be a problem if pointed directly towards windows or glass doors with bright lights such as car headlights.
Storage with this unit is via a micro SD card. You can press record without a card in the camera – surely this is wrong – only to be told SD card is not available. My own personal opinion is for online storage, as when an intruder sees he/she is being watched either the camera can be taken or just the card removed so either way all you have is the live view image and unless you know the person that would be likely to be no capture.
I asked if remote viewing on a PC was available and was told that currently there is no demand for this feature. Surely most PC's have immediate options to capture a screen shot or more so that would help even if the camera is taken or disabled.
As I was using it on its base to allow the camera to be moved with ease 'I was using it upside down' according to how it would be used if fixed in place hanging like a bat with it twisted into place on its rubberised base.
Among the things the 'Clan' App can tell you are Temperature, Humidity, Air Pressure and Wind Speed.
By default the live view image viewed on your phones screen is shown as part of a portrait display, however touch the bottom right of the image and it swaps to full screen landscape, as I tested it in Winter most of the images were Infra-Red monochrome.
Capturing an image on your phone is just a matter of switching back modes and selecting screenshot from the five choices of Alarm, Speak, Direction, Record and Screenshot.
You can have a conversation with your camera from your phone which may have its use for some children or perhaps a dog or cat 'Rex get off the sofa now'. May have the required result.
I could find no way to turn either the Blue connected light or the Red Infra-Red light off so any intruder gets warned they are being captured providing of course your phone has a Micro SD inserted and of course what happens if you have one of the new breed of phones that do not have Micro SD Cards?
I loved the ability to pan and tilt and the fact it works upside down so can be placed anywhere that a Micro USB lead can reach. In comparison to other such stand-alone units this is value.
The Time2 Olivia camera is available from the link below for only £59.99.
https://www.time2technology.com/en/security-cameras/indoor-security-cameras/olivia-wifi-ip-indoor-rotating-home-security-camera.html