Tab Cat Track your Cat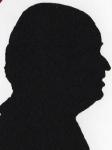 Dogs give you loyalty, cats stay with you if they want to, and while you say you own a cat it might be more accurate to say you have a cat that spends time with you, as unless he/she never leaves the home you never know what else it does and where, that is until now.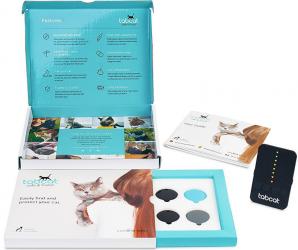 click image to enlarge
Assuming your cat allows you to place a collar on it then this device will enable you to track its whereabouts.
I have reviewed a couple of larger devices recently that allow you to find your keys, car, bicycle and suchlike, and I believe both those companies are planning such a device to place on an animals collar, while this is sold for a cat I see no reason why it should not live on a dog who normally accept a collar without problem.
There are two Tabs in the package and each comes with a splash proof outer sleeve that attaches to your cats collar. There is also a Handset like a remote control in size and a forty page User Guide in four languages.
The Tabs are 3cm across and flat they are .6cm thick and weigh 7grams add another 2grams for the connecting sleeve. The sleeves in my package were turquoise blue and grey while the tracking units were black as was the handset. The handset is 8.5x5x.5cm.
The silicon rubber sleeve will stretch to allow you to insert the Tab, however do not insert it yet as the battery in the unit has a pull strip that needs to be removed before it will work. The same is true for the Handset.
Each of the two sleeves has two cuts on the back of the sleeve which you feed the cat's collar through, these are 2.5cm long and .5cm wide.
Each Tracker can register and locate up to four Tabs. The left side has a volume button, the right side on/off button and the face has a line of eight LEDs to locate the correct direction, below these are four push buttons to correspond to each of four Tabs signals.
To register a Tab place it near the Tracker – making sure all other Tabs are well away – and select one of the four buttons below the LEDs.
To locate your cat press the on/off button on the tracker for three seconds and it will start to search for whichever of the buttons below the LEDs that you then press full colour instructions are shown in the User Guide.
All well the cat is found, however there will be occasions that the cat does not want to be found and it can be in long grass within close distance and being an intelligent beast it will get to know the sound of the Tracker - you can however change the volume level - and move away. However it could be useful if say up a tree as cats are good at climbing and not always as good as getting down again.
The Tabcat is available from Amazon for £69.99 with free delivery.