Ring Video Doorbell Pro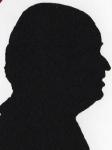 If like me the place where your door bell lives is quite a thin door surround then this latest offering from Ring may just solve the problem as it is that much thinner than earlier versions of their doorbell with the camera to allow you to see who is calling so if it is someone you don't want to see just stay in your seat and ignore the ring.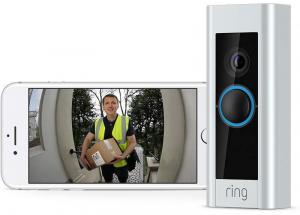 click image to enlarge
Of course if you are not in their ring on your bell is notified with video to your SmartPhone and then you can say sorry I can't come to the door at the moment to get rid of a suspicious character or if it's that courier that you have waited in for during the previous two days you can make arrangement for redelivery or better still ask him to leave it with your neighbour.
It is 11.5x4.5x2cm. The box not only contains the Doorbell Pro but also a transformer so your own doorbell can continue to function, it also has almost everything else you may need even a screwdriver.
If you do not already have a doorbell then once the App is setup you can link it to the Chime provided in the box which will ring when the Doorbell Pro is pressed. The Chime provided fits directly into a power socket with no wiring and receives its signal from the Doorbell Pro.
So first job is to see how your current doorbell connects to the mains does it have a transformer or is run direct from the mains, the transformer maybe in the fuse board cupboard or possibly in the doorbell housing. You need to know what voltage and if it is different from the Doorbell Pro then replace with the transformer provided.
Most important is to turn off the mains power before starting the actual work. If there is not enough detail in the install instructions in the box then download the full manual from the link provided.
The Doorbell Pro comes with a silver grey sleeve attached but in the box are three other sleeves Black, Grey and Cream that could be fitted if preferred.
Once the App has been downloaded from the iOS or Android store everything is controlled from the App so should there be any setup problems follow the prompts or the manual. Should you already have other Ring items you just need to add Doorbell Pro as an additional item.
Once setup the Doorbell Pro will ring at the door and Chime, if you have added Doorbell Pro to your own doorbell the Doorbell Pro will ring at the door and your doorbell will ring as normal when the Doorbell Pro is pushed you will also receive notification on your SmartPhone so if in you can answer as you did before or view the caller on your SmartPhone and then decide what to do.
So if you are an older person with mobility issues you do not need to rise from your chair unless it's a person you want to see. Best of all if you are out you still know who called and you can even have a conversation via your SmartPhone with the caller and they never need to know if you were in or out.
The Ring Video Doorbell Pro is available from Amazon for £229 and full details are available from Ring's website.