RICOH THETA S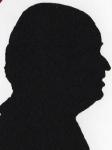 Review controls
Ricoh and Pentax are both names in quality DSLR and even some smaller but high quality cameras often cruelly called point and shoot. This offering is somewhat different as you only know what you have when you have it stored.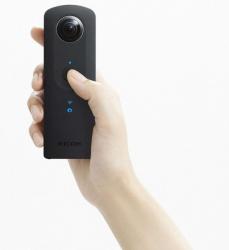 click image to enlarge
However this is a two fish eye lens offering that captures both still and movie images in 360 degrees so ideal for those sightseeing adventures. A have read that a couple of other companies have launched such devices at the recent MWC (Mobile World Congress) so it looks as if the upgraded THETA S has stolen a match on both of them.
While you can control the unit via iOS or Android Apps you can also capture and store the images or video and then transfer them via a USB lead. When you first view these images they appear as two circular images, the videos look very strange when played via Windows Media Player all in all rather disappointing but RTFM.
It is 13x4x2cm and weights 123grams.
The top has rather good microphones. The right side has three identical looking push buttons so although they are documented above each it is black on grey so not that visible.
The base has micro USB for charging and image transfer (cable supplied), mini HDMI for better quality transfer (cable not supplied) and between these a tripod screw, I found this last item useful to avoid getting your fingers in images. The left side is clear as is the back apart from a fish eye lens near the top, this is also at the top of the front and a 'shoot' button is midway down the front, there are also blue LED's that are invisible unless the unit is switched on.
A slip case is supplied.
So what are the specifications, the MP (mega pixel) count is stated to me equal to 14MP. It shoots video in HD format at 30FPS and you can shoot videos up to 25 minutes long.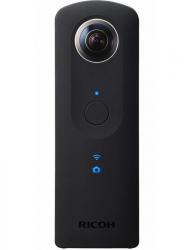 click image to enlarge
The unit comes with 8GB of memory and this can store up to 1600 (large) images and 9000 (medium) images. As far as video goes 65 minutes of (large) and 190 minutes of (medium) can be stored. The reason I think for the 25 minute length dates back to early camcorders and a larger tax existed on items shooting over 25 minutes of continuous video.
Once the videos are shot they need to be downloaded from the camera to a folder and then imported into Theta software. This is not a quick process as an example a one minute clip that can be viewed as two circular images in Windows Media Player takes 15 seconds to transfer – via USB2 – to the PC and around 41minutes to be converted to a single video, what is perhaps most interesting is that this video can be reduced in size by up to three quarters according to content although half is more normal. The example above was 116MB native and became 39MB converted.
While captured videos can be processed on a PC, to see what you are looking at – rather than taking a calculated guess – you need the Android or iOS App and among the things this can do is to check the exposure and white balance.
For still images the exposure can be between 1/64 of a second and up to 60 seconds. The latter surely for a scene that has little in it to change.
This is an interesting item and I have warmed to it during my review period.
The RICOH THETA S is available in black from the first link below for £299 with free delivery.
http://www.amazon.co.uk/gp/product/B014US3FQI?ie=UTF8&tag=gadge0a-21&linkCode=as2&camp=1634