Philips Shavers for 'below the neck'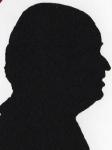 The men's bathroom at a Philips Xmas In July event was where I saw a range of shavers and toothbrushes from Philips, the demonstrator called the first of these offerings for areas below the neck, while I was also presented with a ladies offering I never did find the ladies bathroom.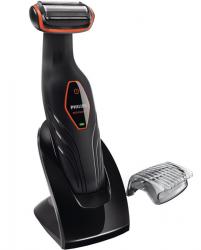 click image to enlarge
Philips Bodygroom
As with so many recent products you gets lots of small booklets and sheets of paper most of which are for safety and most of which are not even in English. There is a small 10.5x7.2cm 12 page booklet and eight of these have illustrations, the ninth has a web link to the Philips support pages.
A lot of the illustrations are for different models a total of eight models are covered.
One page has four illustrations the first a picture of a male chin with a red 'x' by it the next a picture of a male head with the hairline highlighted again with a red 'x' by it. Illustration three shows the front view of a male body with green ticks for the shoulders, chest, arm pits, stomach, groin and legs. The forth illustration is of a rear view of a male with ticks for shoulders and back.
Thankfully after the next page tells you how to charge it, then it only goes on to show how to shave the under arm and shoulders and leaves you to work out the other places yourself.
The razor is 17cm long and a maximum of 5cm wide in the centre where the on/off button is and at the shielded foil head with foil side cutters on either side of it. It does show how to clean the razor under running water. It weights 129grams and feels comfortable when in use and considering yours hands may be wet this is important that it is stable as false movements could be painful.
This model can take up to 8 hours to fully recharge its internal battery from empty.
There is a mains lead and dock provided and unusually for a shaver this has a 13amp plug so not chargeable in the bathroom.
There is a single 3mm comb to fit over the foil head for the times you want to trim an area rather than shave it smooth.
The Philips Bodygroom BG2024 is currently available from Amazong for £24.99 with free delivery.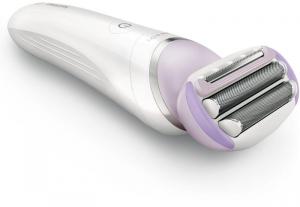 click image to enlarge
Philips SatinShave Prestige
I cannot tell you a great deal about this product other than describe the box contents it is naturally a little smaller than the unit above for a man is this is intended for a woman to use either wet or dry.
It has two angled foil heads and a single side foil cutter.
It is 15.5cm long and a maximum of 5cm wide at the shaver head. It comes with five parts a Bikini Trimmer Head, Travel Cap for the razor, a Bikini Trimmer Comb, a Skin Stretcher Comb and a pouch to keep it in.
The mains lead has a more normal two pin shaver plug illustrated in the manual but it actually comes with a UK 3 pin plug and there is a small brush to clean the unit.
The ladies get a large written sheet in a range of languages as well as some illustrations that show you show shave against the hair growth.
The Philips SatinShave Prestige BRL170 is available from Amazon for £34.99 with free delivery.