Philips Big and Curvy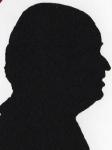 This is big and I mean 'big' larger than most TV's and it's a monitor/panel for use with a PC, however with the software provided it can show up to four screens on it's one screen. This 40inch display is capable of showing 4K which is 3840x2160.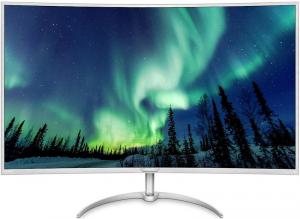 click image to enlarge
The Philips BDM4037UW measures 90.5x53x1cm it has a 'C' shaped stand that raises the screen by 12cm from whatever you stand it on. The display is curved with the middle 2cm further away than the edges. The footprint of the 'C' shaped stand is 42cm at the open front and 22cm from back to front.
There is around 10 degrees of back tilt and about 5 degrees of forward movement.
Out of the box you have a display that shows HD 1920x1080, once you have installed the software then by using PiP technology you can see up to four screens all in HD so great for anyone who needs to monitor several screens at once. Of course for those working with CAD or very large spreadsheets 4K natively is very fulfilling.
All the normal features are still available including flicker free and 178 degree viewing, the colour gamut is 10 bit (rather than 8 bit) so any shading looks far superior and according to the Philips site – see link at the end – internally it is 12 bit.
There is a 4 port USB3 hub on the rear of the unit and one port remains live as long as power is not removed from the socket so you can charge your mobile even when the monitor is off and the hub supports fast charge.
The other connections on the rear of the panel are power in, MHL HDMI, MHL HDMI2, two Display port inputs, D-Sub and then two 3.5mm sockets for audio in (for D-Sub) and headphone out. All this line of connections are above the stand connection point so easy to get at.
For those who MHL means nothing it allows via a special cable you to view content from your SmartPhone so those HD videos on your phone can be viewed full screen on this display.
Unlike the previous curved screen unit I reviewed it is not that noticeable here and especially if you use PiP or PbP giving multiple displays on this single screen.
One button I have not discussed is a joystick nipple bottom right of the back that gives access to various inbuilt features like SmartImage that has a range of preset colour pallets for a range of situations; you can also control volume from the inbuilt speakers.
I found most of the Windows start up flash images superb especially when viewed in relation to say a standard HD screen and colour was vibrant.
If you have a room big enough to use this then it should be on top of wish lists as it was excellent however even finding a space that can support this large unit may be difficult for most. However in say an office presentation room then yes please.
The Philips 40inch 4K BDM4037UW is available from Amazon for £534.03.