Philips 27 inch monitor 276E9QDSB

Review controls
The 276E9QJAB/00 is one of a series of three 27 inch 1920 x 1080 full HD computer monitors employing what Philips describes as Ultra-Wide Color technology aimed at the home & office markets.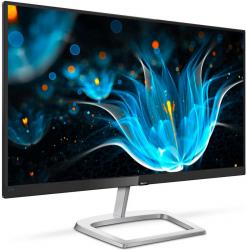 click image to enlarge
It has a 16 x 9 aspect ratio and has a narrow black bezel and is supported on a silver stand. With the exception of the bottom edge, where it is 2cm wide, the bezel is 1cm wide. One of the benefits of the narrow bezel is that the monitor is only just over 24 inches wide and does not look overpowering on the desk or even in a living room. The screen, which has an anti-glare coating, can be tilted 20 degrees back and 5 degrees forward. Even though the stand cannot be swivelled this is no problem in view of the wide viewing angle of the IPS panel which is claimed to be 178 degrees. In practice this is more than adequate for any realistic needs. The lower edge of the screen is about 5inch from the desk and the top 18.5inch which I found made comfortable viewing.
At the right hand end of the lower bezel is a power symbol and a tiny white power LED. It is easy to get confused and expect to find the power switch close by that symbol. In fact, power is switched by pressing on the multi-function on-screen display joystick lever which is found on the lower-back of the monitor and readily accessible using one's finger tips.
At the rear of the machine are the VGA, HDMI1.4 and Displayport signal inputs as well as the audio input and headphone jack. There is also the power input which is 19V DC provided via a quite small power brick. In this context, with normal operation power consumption being under 25W and 0.5W on standby the monitor is graded "A" for energy efficiency.
If one wants to mount the monitor on a wall bracket using the 10cm VESA standard mount it is a simple task to remove a decorative cover on the rear of the machine in order to access the four screws holding the stand bracket in place.
In addition to all the normal settings – such as input, brightness, contrast, picture format etc. – the on-screen display provides access to a range of special settings that have been optimised for different usages. Under the SmartImage heading there are a number of presets optimised for different types of content. These include settings for different types of games including First Person Shooters, Racing, Real Time Strategy. As I'm not a gamer, I am unable to comment on the benefit provided.
Similarly, I am unable to comment on the AMD FreeSync technology which syncs the monitor refresh rate to the GPU frame render rate so as to improve overall rendition and avoid screen tearing. This is because, as well as not being a gamer, I don't have a compatible AMD Radeon graphics card.
On the other hand for everyday usage for text, spreadsheets, photos and viewing a wide range of movies different types of settings are available. For text one can select one of the four Low Blue Modes which are aimed at reducing the exposure to short wavelength blue light which studies have shown can cause eye damage and affect vision over time. When wanting to choose the most appropriate colour setting to view photos or movies it was necessary first of all to disable the Low Blue mode. The keen photographer can then opt for sRGB (standard Red Green Blue) of chose from a wide range of colour temperature settings or individually setting Red/Green/blue balance. I used sRGB as it is the colour profile used by most browsers to display web images.
Overall, the monitor is able to meet most needs for both work and play, is easy to set up and adjust, and is in a reasonably attractive package with a MSRP £169.