One Plus 6 Wireless 'Bullets'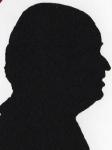 Earlier this year One Plus launched their new phone at the Copper Box Arena in Queen Elizabeth Park and they also showed these unique – as far as I know – wireless earbuds that when placed back to back stop the playback from your device. This is certainly a novel idea and that I why I requested to try a pair.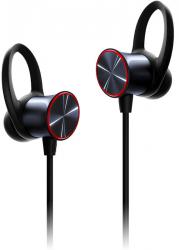 click image to enlarge
So in the box you get the neck band with gels attached (medium) two other pairs of gels together with smaller and larger sizes of fins. Also in the box are a rubber push open pouch that contains a 25cm long distinctive USB charging cable and a small six language User Guide.
The total length of the behind the neck cable is 84 cm, the centre 38cm is stiffened in a semi-circle to fit around the neck with 23cm either side in a normal thin cable ending at the buds.
As regular readers will know my ears tend to swell after a while with earbuds, so it's important for me that I get a small enough set of gels and so the medium ones that were supplied attached are removed and the small ones are attached although I found that the medium fins were fine so they remained attached.
Like quite a lot of recent pairs of earbuds the backs of the buds attract each other but this is the only ones – so far – that I know of that stop the playback when they go back to back.
Although announced at the same rime as the One Plus 6 they did not become available immediately and by the time I received a pair my One Plus 6 had been returned. However I tried them with a couple of other recent SmartPhones and they worked fine, remove the buds from your ears and place them back to back and the playback stops. With the phones I tested them with you had to restart playback again manually I do not know if that is different with the One Plus 6 for which they were designed to work with.
So what of the most important thing sound quality, while most will use earbuds with their SmartPhone there is no reason why they should not be used with better quality Lossless sound either from CD's or FLAC quality recordings.
First I test all genres of sound in MP3 format as this is what most will suffer on their phones either downloaded or streamed and I have a range going from opera through classical and both large and small groups as well as popular, pop and my favourite genre jazz. I also test voice from bass up to soprano as most will find as they get older some of the upper register starts to vanish.
Having passed this test I moved onto CD quality and FLAC sounds and I was perfectly happy with everything I gave the earbuds.
While it may be a bit of a gimmick to stop playback by the joining of the buds together it works, it is certainly a talking point.
The One Plus 6 Bullets are available from the link below for £69.