Netgear's high performance ReadyNAS212

Review controls
The Netgear ReadyNAS212 is a two-bay high-end network attached storage unit designed for those who, in addition to basic backups, want a high level of data protection as well as other features such as being able to do full HD 1080 to 480p transcoding on the fly.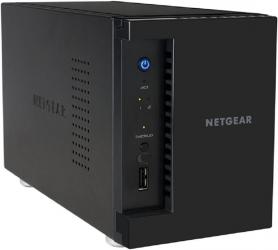 click image to enlarge
Externally, the unit, which is painted a dull black, has a 9 x 4 inch footprint and is about 5.75 inches high and comes supplied with an external power brick. There are two gigabit Ethernet ports so that, when used in conjunction with a router which supports it, link aggregation can be employed to double system throughput. The other connections on the rear panel, which is largely taken up by the cooling fan, are one eSATA, two USB 3.0 and the power connector plus a slot for a Kensington lock. A further USB 3.0 port and the power switch and LEDs are on the front.
At the heart of the unit is a quad core 1.4GHz ARM Cortex processor and 2GB RAM which provides the power necessary to support multiple demands. For example, a back-up of 43GB of assorted files which took just under the hour on less a less powerful NAS unit, took 25 minutes on the RN212 under identical condition.
While often supplied unpopulated it can accommodate either one or two SATA drives of up to 6TB each providing a total storage capacity of 12TB. However, a great many users will use it in the RAID 1 mode to provide a degree of protection as the data is "mirrored" on each drive. Even though virtually any SATA drive that one has lying around could be used, it makes sense to employ drive(s) from the Netgear approved list many of which incorporate a Rotation Vibration Safeguard (RVS) feature that provides an extra layer of protection from premature drive failure. Furthermore, a note on the list of compatible hard discs on the Netgear Web site makes the point that "NETGEAR Technical Support can and will deny support on devices using drives not found on the official compatibility list" and recommends that drives should be selected that "most closely align with your planned workload".
Included in this list are the 6TB 3.5inch WD Red drives from Western Digital that I used for this review. They are designed for network attached storage in the Personal/Small Office/Home Office environment and incorporate RVS. Where the RN212 is supporting the heavier workload demands of a large number of users in a busy office, WD Red Pro Enterprise class drives would be a more suitable choice.
A hinged cover on the front of the unit allows access to the two bays which can accommodate either 2.5 or 3.5 inch drives. Press the retaining latch and it is then easy to withdraw a drive caddy. While mounting screws are required for 2.5inch drives, the caddies are screw-less for 3.5inch drives.
Although I had a glitch due to my own carelessness, discovering and setting up the unit is straightforward using Netgear's ReadyCloud or the local setup wizard.
Having logged in using the setup wizard, and seen the large number of tabs and the additional options that they lead to, the versatility of the RN212 can be appreciated. It was apparent that setting it up to best advantage would not be a ten minute job and so it was beneficial to download documentation such as the 238 page ReadyNAS OS6.5 Software Manual so as to get a better understanding of the issues involved.
With the RN212 Netgear has aimed to provide a higher level of protection than one would normally find in a home or SoHo NAS unit. When using the RAID 1, mirroring mode, the operating system can use the data checksum functions to check for "bit rot" (the gradual change in discs causing a slow loss of reliability) and rewrite the suspect sectors to restore the reliability of the data.
In addition it uses the Btrfs files system, which is a copy-on-write (CoW) system designed to improve data reliability and scalability, rather than the older Ext4 as well as employing snapshot technology, akin to incremental back up, to protect against accidental data deletion or corruption by providing point-in-time recovery. These are all important issues in respect of maintaining data integrity as are the anti-virus and remote or cloud backup.
However, the RN212 is more than a back-up. Netgear doesn't stint on available options. User and group accounts can be set up to provide local access using, for example, a web browser while the cloud services, such as ReadyCloud, support remote access. It is, by the way, compatible with both Android and iOS devices.
As well as offering HTTP for web access and the FTP file transfer protocol –- both with and without SSL encryption -- the ReadyNAS supports a whole range of media services. It offers a wide choice of music, video and photo formats via its ReadyDLNA so that media can be transcoded on the fly and streamed in real time to any smartphone or tablet.
The RN212 is a high-performance 2-bay NAS unit that is available unpopulated from Amazon at about £255. (To this must be added the cost of a pair of NAS quality hard drives in order to get a complete working NAS unit.) While this is about £100 over and above that of the more basic RN202 it is not an excessive premium to pay for the media handling features plus the extra general performance that it offers especially in relation to the total cost of the NAS system.