Netgear ArloQ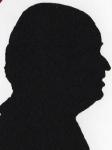 Having launched various cordless cameras Netgear now go the other way and attach a cord but instead of this being an Ethernet one it is a generous length USB one meaning it takes power from the cable – no batteries – and sends the signal it receives to your account.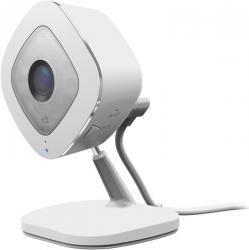 click image to enlarge
My review has taken longer than normal simply because this relies on a SmartPhone to function, either an iOS one or an Android one. Just before this unit arrived I was reviewing a Windows Phone and this was followed by another such device and the statement on the box 'One App for all Arlo Cameras' has a flaw, no support currently for Windows Phones as far as I could find.
It is rectangular with all the edges set at 45 degrees so it looks more diamond shape. The camera is 11x6.5x3.5cm. It is attached to a magnetic stand 6x7cm and this does mean that the 3.5cm depth is increased to 7cm especially when you attach the supplied micro USB to USB lead to the back right of the camera.
The bottom left side of the camera has a small built in speaker while the bottom right has a reset hole and a triangular shaped sync button.
The USB to micro USB cable is 290cm long which means wherever you place the camera it needs to be less than that distance to a power plug. You could plug it into a port on a PC or notebook but of course it would then stop protecting if you turned the PC off. So Netgear supply a plug front that goes into any 13amp socket just remember not to switch off that socket.
There is a small 16 page Quick Start Guide that with a few words and plenty of illustrations that should get you going.
The magnetic plate means that while there is a wall mounting socket you might prefer to move the camera around and just place it on something metallic. This is what I did and it means one camera can cover several areas. Of course you could buy more cameras. The viewing angle is good at around 130 degrees so almost anything forward of the camera is in range.
Once you have the camera in position you will need the Quick Start Guide to work with your SmartPhone and scan the QR Code, you use the Sync button to link to your router this then links you to Netgear and you open an account (free) and once setup you have seven day free recall of any images taken, after that period of time if you require images afterwards it will incur a fee.
If you have pets such as dogs and cats that are able to roam your home while you are away you will probably tweak the sensitivity or set it to ignore activity near the floor otherwise you are likely to get a range of false reports sent to your SmartPhone.
The one drawback I found is that the phone needs to be on for things to function. A competitors unit recently reviewed still sends emails to you of intrusions with a photograph even when the phone is off. This other unit also tells you when your camera has been disconnected. When I mentioned that last point to a Netgear person they thought it would be easy enough to implement.
The images from this unit were clear unless pointing directly at a strong light source and it also gave good night results in black and white.
The Netgear Arlo Q is available from the link below for £168.98 with free delivery.
http://www.amazon.co.uk/gp/product/B01AWADR4S?ie=UTF8&tag=gadge0a-21&linkCode=as2&camp=1634