Multi Tool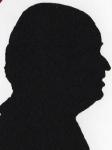 I am sure we all have all the devices – and more – available as single tools, however in this small multi tool offering, but when you need them can they be instantly located. You are more likely to find them if located on your keyring and this comes with such a ring attached.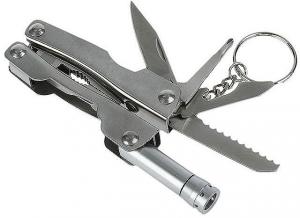 click image to enlarge
The tool comes in a fabric case with the keyring attached to the 'multi tool' via a short 3cm chain, this enables the tool to be in the case rather than rubbing a hole in your pocket as it would without the case. The total weight with the case is 81grams. The multi tool is when folded in on itself is 8.5x3x1.5cm and as it fits snugly in the case that has a Velcro flap, that is the overall dimension as well.
So remove from the case and unfold to reveal a pair of pliers with 3cm jaws and a 2.5cm opening at the 2mm square tip, the total length including the handle is 11cm.
One arm has a fold out LED torch ideal for the time when pitch dark and you cannot find the door lock to insert your key, the torch turns on by a small movement at the lens end. This when fully extended is 10cm long but it can be turned on at any point through the 180 degree travel.
The other arm is far more complex with no less than four tools any of which can open to 12cm long including the arm.
First a small saw that has eleven serrated teeth. Next a bottle opener a tool that no keyring should be without. For those small Philips screws (I mean small) a tiny screwdriver and finally a knife blade and as the blade is less than 4cm I think it is legal to carry.
A tool that will get used for those jobs when finding the toolbox is just too much effort and you will probably be surprised how often you delve into your pocket or bag to extract this multi tool for all those little jobs.
The reason I emphasized pocket rather than bag is that if you do not use the keyring you are likely to lend it to someone and you will never get it back but with your keys attached it has to be returned.
This as well as lots of other small items are available from Brando in Hong Kong and best of all the price of the single unit is what you pay as they offer free worldwide delivery.
The Multi Tool listed as 'Multi-Function Pliers with LED Light' is available from the link below for $18 US which at today's exchange rate is around £14.
https://lifestyle.brando.com/multi-function-pliers-with-led-light_p12116c1772d135.html