Motorola One Vision from Vodafone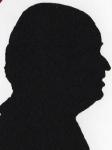 This latest phone has some nice little extra features, it also is Android 9 and has a pure Android operating system so no skin added this is called Android One but this means with no extra skin to slow it down it is really fast.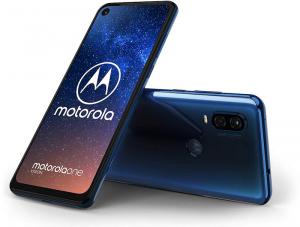 click image to enlarge
It is 16x7x.9cm and weighs 198grams; this includes a clear silicon case that covers the back and sides. The viewable screen is 15.7x6.4cm which gives the notional diagonal imperial screen resolution of 6.3inches.
Going around the outside has volume rocker with on/off button on the right side. The base has its speaker, USB 'C' and microphone. The left side has SIM entry point and the top has 3.5mm headphone socket. The rear has twin cameras and LED flash 1cm down from the top near the left and fingerprint sensor 4cm down from the top in the centre.
Bootup is 16 seconds and shutdown only 2.5 seconds. A full trickle recharge is 135 minutes. The battery is 3500mAh giving all day and more usage. Fast charge is said to deliver 7 hours of use from a 15 minute charge. The display is 21:9 ratio and 1080x2520 pixel.
Looking at the home screen has a top line showing Wi-Fi, ISP, battery state and time with the visible selfie camera near the left top edge. Below this day, date and temperature. Then about 1/3 down digital clock with date below and temperature above in a circle with a solid line from 12 around it to show battery state. The next third is empty and below this two icons – one either side – with a line of five icons below this and just above the base the Google Bar. Finally the bottom line consists of a back button on the left side and a dual bar button in the centre that if pushed up shows all opened windows. A full swipe up will reveal all the icons in however many swipes it may require in alphabetical order.
The camera is described as 48MP (quad pixel) which could be rather confusing the 12MP rear camera produces excellent photos in all light conditions. The front selfie camera is 5MP.
The video capture ability is 30fps in UHD and 60fps in HD.
The unit has 4GB RAM and 128GB internal storage with up to 256GB on a micro SD card. The processor is a Samsung Exynos 9609 with 2.2 GHz Octa-core CPU and Mali G72 MP3 GPU processor.
I liked the Android One Vision and it gave perfectly acceptable sound for personal listening as well as excellent sound through 3.5 headphones or Bluetooth.
Finger prints on the rear are avoided by using the supplied silicon case; the front does show the odd finger mark but a lot less than a lot of phones.
The screen was responsive and swapping between open Apps almost seamless.
This review unit was sent to me by Vodafone who have a range of schemes available, one example is £28 a month with no upfront cost, all their plans have unlimited minutes and text 1GB data for £28, 5GB data for £32 and 20GB data for £37.
You can find out more about the Motorola Vision One on the Lenovo Motorola site.