McAfee Live Safe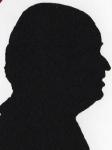 McAfee call this the ULTIMATE antivirus, identity and privacy protection for all your PCs, Macs, smartphones and tablets, so while you may have purchased it for your PC all those other devices such as your Phone and Tablet are also covered.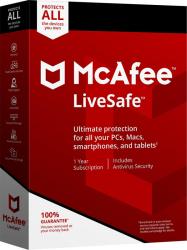 click image to enlarge
Even if you get a box – or card – from a retailer you do not get any media which means you have to download it from the web address given, this may seem like an extra step but of course Anti-Virus needs updating all the time as the bad guys are always updating their threats. So you get the latest version and not one produced weeks or even months ago.
Once downloaded you scratch off the covering over the number if purchased as a card or if purchased online just cut and paste your number in and you are covered like an insurance policy for the period you have purchased which is normally one year.
You will be nagged before your renewal time or from McAfee point of view set up a direct debit style where it all happens automatically. While you can turn off auto renewal I am not aware of any discount for those who set this up.
'100% Guarantee – viruses removed or your money back Our Virus Protection Pledge is free when your McAfee subscription is set to renew automatically. Got a virus? Our Premium Customer Support team will remove it or you'll get your money back — guaranteed' is the claim on their website, this however is perhaps the 'discount' I could not see as it only applies for those with Auto Renewal setup.
Threats today go far beyond a virus. The current nasty one is Ransomware and that if it can get to your files encrypts them and demands payment to unencrypt them, there was a huge problem with one that affected a lot of countries earlier this year and it seems the person that stopped it spreading was no angel himself if certain stories are true.
McAfee have a range of products but if you get Live Safe this can protect not just a single person but a whole family for £89.99 a year.
If you count up the number of Internet enabled devices in your home I suspect that as a family it will certainly be in double figures.
While you may consider that only a PC is at risk this is not the case and with devices being connected over a Wi-Fi network a bad App can infect your Android phone and that can spread to your other devices via your Wi-Fi so everything need protection, yes even that Tablet that you use for reading books on the way to work.
A lot of people think that if you put something in the recycle bin it's gone – even if you empty the bin – it is still recoverable so McAfee provide a built in shredder.
Of course the two categories of things all criminals really want are 'user names and passwords' and even better 'credit and debit card details and passwords'.
So there is a password manager that means McAfee will remember all those passwords especially the ones that require upper and lower case as well as letters and special characters that are really secure but of course almost impossible to remember.
Best of all if your computer is protected it will tell you if you are trying to connect to an unsafe site and then this makes it all the harder for those nasty things to get on your PC, MAC, Android, SmartPhone or Book Reader in the first place.
Full details of all the products available for home or business are available from on the McAfee web site.