LifeStyle from Worcester Bosch

Review controls
Worcester Bosch has launched a new range of domestic wall-hung boilers, the Greenstar 8000 Lifestyle range to replace the 14 year old CDi Classic series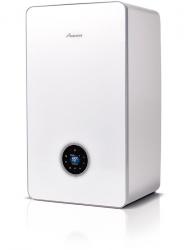 click image to enlarge
Following on from 4 years involvement by the UK team, in addition to the efforts of the Bosch team in Stuttgart, the new products are a major redesign and aimed at being more efficient as well as being easy to install and maintain. The boilers have outputs ranging from 30 to 50kW and are available in combi, system and regular versions so that there will generally be a unit that will meet most domestic needs.
Colin Simpson, Worcester Bosch's Technical Manager, has told GadgetSpeak that support, including spares for the existing installed base of CDi Classic boilers will be continued for 15 years so that there should be no fear of a shorter-term obsolescence. Nevertheless, the Lifestyle range has been designed so that it is a "simple switch" when it becomes necessary to replace an existing CDi Classic. This is achieved by ensuring that the mounting points, flue and pipe connections are the same for the new as for the old.
There are two variants in the Greenstar 8000 Lifestyle range: the basic Life and the enhanced Style both of which are compatible with the latest intelligent and smart technology. The former, only available in white, is basically a redesigned replacement for the CDi Classic. It is lighter in weight and is easier to install, service and maintain. Weight saving is partly due to the use of composite materials which also provide a degree of acoustic damping and so reduce the noise from the boiler. Improved design makes it easier and quicker to remove covers to gain access to the internals and so simplify both installation and maintenance. The Life comes with an improved push-button LCD display with diagnostics similar to those of the CDi Classic and offers full wireless connectivity with the Bosch Easy Control system.
The Style incorporates all the benefits of the Life plus a number of additional features such as a full-colour touch-screen display with more detailed diagnostics and fuel cost monitoring. It is offered in both high gloss black and white and it is claimed "to sit comfortably in any room of your home" as well as being said to have "design-led aesthetics for contemporary homes". The price-premium between equivalent Life and Style boilers is of the order of £100.
Both versions have an improved modulation ratio (1:10 vs 1:3 on the CDi) to provide better control of the boiler heat output. This improves fuel efficiency, allows for closer temperature control to improve user comfort as well as enhancing boiler longevity by reducing on/off cycling. In addition they both incorporate the new Greenstar Intelligent Filling System which ensures that the boiler does stop operating due to a fall in system pressure which is quite a common reason for service call-outs.
It is understandable that Worcester Bosch needed to replace the CDi Classic range of boilers which were certainly getting a bit long in the tooth. However, this new Lifestyle range could well attract new customers and, furthermore, the company has gone a long way to ensuring loyalty from both installers and customers with it. The former will appreciate the fact that it is quick to install as a replacement for a CDi and then easy to maintain while the latter will benefit from it be being more efficient, is easier to control and use and has the added bonus that there is likely to be minimum household disruption during installation or servicing.
Technical details for this boiler can be found on the Worcester Bosch web site.