LG Leon from Vodafone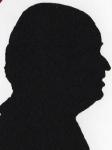 This is an Android phone so everything should be the same as every other phone? However LG have never been one to conform, I remember their white phone of many years ago. Here there are no buttons on the phones sides.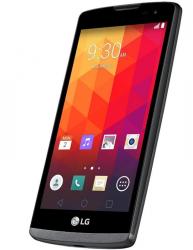 click image to enlarge
The Leon from LG has one button just above the centre middle of the back. Sorry if this is not a new feature but sometime ago LG stopped sending out review units so the only way I have to review such items is via people like Vodafone.
This is not the largest of phones at 12.7x6.5x.8cm and it weighs 138grams. The viewable screen is 9.8x5.5cm which gives the notional diagonal imperial measurement of 4½ inches.
Both sides are clear the base has mini USB for charging and the top has 3.5mm socket for headphones. The back in comparison is a hive of activity with the speaker near the base and the camera and LED flash above the aforementioned single on/off button.
The front is not that shiny black and the screen while reflective would not be great to do your makeup in. The rear is silver grey in an aluminium effect.
Switch on is a full 30 seconds while switch off is only 2.5seconds.
The rear camera is 5MP. There is 1GB of RAM and 8GB of internal ROM. It has a micro SIM that you need to break fingernails to get at as it resides behinds the 1900mAh battery.
The processor is a 1.2GHz offering and it runs Android 5.
As far as taking images it has something called 'Gesture Shot' that is quite like a delay set on a conventional camera, while I did make it work it took several attempts and surely the spontaneous moment would be lost. It has a front camera for those Selfies and it uses the light of the camera screen as a help to capture images in darker settings.
When out and about the Vodafone 4G network meant I was able to browse and receive images without delay. I had to be out one evening during the recent snooker world championship and was able to view the BBC signal live to catch decisive frames without any lag and with a clear crisp image. A lot is made of the Leon's colour display and how better to test this than with a snooker table and the ball clarity as colours like this are always a known factor.
So small size might be a plus or a minus, screen clarity and image sharpness is a definite plus, non-expandability as it does not have a micro SD card slot or support for OTG devices is a definite minus. The quality of signal and speed of downloads when away from Wi-Fi is down to Vodafone and not LG so that is not in the equation.
This is not an expensive phone as it is available from the link below for £50 on PAYG so for the light user this could be a good plus.
http://shop.vodafone.co.uk/shop/pay-as-you-go/lg-leon-payg/sku85930-black