Jam Zero Chill Speaker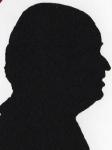 A cylindrical speaker with speakers on the side and top, it should withstand some water as getting in to charge it or insert a 3.5mm lead (if not using Bluetooth) is far from easy, to say the base is a tight fit is quite an understatement.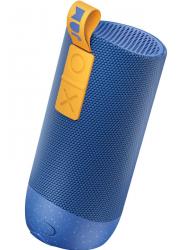 click image to enlarge
It is 14cm tall and circular at 7cm. At the top of the back of my blue unit is an orange loop so you could walk along with it over a finger – it weighs 477 grams – below this in orange is a large 'O' then a raised rib and below this a large 'X'. I have just described all the controls and as it can do all the normal things like answer phone calls move forward or back a track etc. certain combinations need to be followed.
There is a 10 side fold out booklet filled will illustrations but no text so you will probably need to download the .PDF file which makes everything clear as the illustrations have text in your language to explain the actions.
I knew the bottom had to come off in order to charge the unit but I had to resort to a thin bladed knife to work into the tiny crack to start removing it. Inside is the micro USB to USB lead required to charge the unit. There is an oval outlet in the side – just as tight – but as I now have access to the base this can slowly be pushed outwatds, this is required in order to feed the supplied 3.5mm 'L' shaped lead out, a standard straight lead would stop the base refitting snugly.
In the roof of the base are the micro USB connector (charging) and the 3.5mm socket.
There is an LED near the base this is normally invisible unless working and it can be solid or flashing red or flashing blue, all clearly explained in the .PDF.
If you connect the 3.5mm lead before switching the unit on it will not look for a Bluetooth connection otherwise that will be looked for and once linked it is remembered.
There was a good range of sound for a small unit and while most will control sound from there pnone or MP3 device there is some adjustment on the unit.
Having only two controls 'X' and 'O' makes the length of push critical. Those who have been following will know I said three but the raised rib is only to turn the unit on/off.
It has a claimed 22 hours between charges which of course will depend at the level of playback used.
I assume the IP67 dust and water rating is only obtainable because of the tight fit of the base.
At the time of publication the Jam Zero Chill is available from Amazon for £49 it is also available in grey or black.