Dot Creativity Kit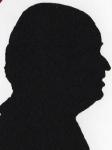 Having recently told you about CUE also a fun coding solution for older children here I regress slightly to tell you about an offering for children from six years upwards. This one is called DOT, again a Robot for the child to control.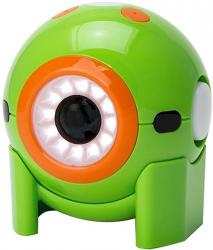 click image to enlarge
Remembering how easy CUE was to extract from the box left me somewhat frustrated that the same system was not used here and sadly although I took time to remove DOT without ripping the cardboard apart I doubt I will ever get it back in place.
DOT is 11cm across, 7.5cm from back to front and 9cm tall, it is a basic ball shape with extensions either side and on the base.
What Comes in the Box
Dot the robot with detachable stand
2 building brick connectors
2 plastic to cardboard connectors
20 project cards with games & activities
10 costumes
1 squishy case
1 constructible mood lamp
Over 100 stickers
Multiple project accessories
1 charging cable
3 free downloadable mobile apps (Wonder, Blockly, & Go) with dozens of challenges, puzzles, and hours of free play
So having removed everything from the box the 'Start Here' laminated card tells you how to proceed. As you might expect you need to download an App from makewonder.com/start. Turn DOT on, Connect DOT with the App and then plug DOT in via the supplied USB lead to charge up. My suggestion for a younger child is to do all this while the child is not there as when I was that age patience was never my strong point.
Once charged and you switch on a younger child's voice speaks from inside DOT and this is important for bonding with the child.
I suspect for the younger child either an older sibling or a parent will be required to at least help prepare the different projects and start the App in the correct way.
While I can see an older child being quite happy to use CUE by himself or herself here there will need to be interaction to get things moving.
Indeed two children of eight and seven from close by needed their parent to help them work through things although I think they had a good time once they got into it.
On initial power up DOT will say 'where am I' or if it was turned round 'what's the angle here' which even the older child still found funny.
DOT itself has various LED lights of various colours which certainly mixed with sounds make it interesting.
You can play or record sounds with DOT.
Once you have completed the basic twenty projects you can then explore more with other Apps within the DOT package.
The link below has a 30 second video to show you the sorts of things a child can do.
My only criticism is that unlike CUE that can be removed with deconstructing the box DOT cannot and surely the younger children are taught not to destroy things the better.
DOT Creativity Kit can be purchased from Amazon for £76.39.