Doro 8030 smartphone

Review controls
The Doro 8030 is an easy to use smart phone tailored to meet the needs of those mature people who form the company's traditional market but now feel that they are ready to migrate to a smart phone.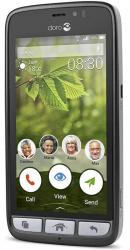 click image to enlarge
This is essentially a 4G smart phone with a 4.5 inch screen running on Android 5.1 However, Doro recognises that while technology and performance are important, ease of use and having the features needed by those whose sight and hearing are not of the best in addition to being able to call for assistance in case of an emergency are vital. For example, it is hearing aid compatible, provides high volume sound, can have larger text, can switch colour modes for those who have colour vision deficiency and has a built-in magnifier feature which makes use of the 5Mpixel rear camera.
Black in colour, the phone has a removable back to provide access to the slots for the microSIM and micro SD card as well as the removable battery. As one would expect, there are front and rear cameras, power and volume buttons plus the headphone and charging sockets. The Recents, Home and Back keys are actual push-buttons rather than being part of the touch screen. This could be a nuisance as it was possible for the phone to be switched on accidentally by pressure while in one's pocket or handbag.
On the back of the phone is the Assistance button. When this button is pressed a text message and, as GPS is built in, location messages can be sent to chosen recipients. Related to this is ICE (In Case of Emergency) where personal, medical and ICE contacts are stored.
While that is a special situation, in everyday usage, the phone provides useful prompts. When one switches the phone on, for example, there is a message "Swipe up to unlock" and then "Enter your pin". Once this has been done one is presented with the several screens with icons representing available applications together with message "I want to" which, upon tapping brings up a list of possible actions such as adding new applications or create a new folder.
Everything is made straightforward. Touching the Call symbol brings a up choice: A number, A contact, or a recent contact. In the address book there are the favourites and then contacts listed alphabetically. Similarly, touching the Send button asks What? and then lists A message, An email, A picture or video etc. and, by demystifying, enable the new user to get to learn how to use this smart phone quite speedily.
The charging cradle supplied holds the phone in a horizontal position and, while it is on charge, the time is displayed in large digits. As this makes it easy for the phone to be used as a bedside clock, one is less likely to forget to keep the phone charged. Furthermore, with its built-in alarms, it makes a very good bedside alarm clock. A number of alarms can be set for different times and a choice of day. Hence, one can have a different wake up at the weekend.
Even though the 8030 does feel a bit slower than many other smart phones I do not feel that this would prove a problem to many. Overall, it is a very useful phone for an elderly person who has found that a more basic feature phone is too restricting especially as there are plenty of prompts to guide the user . In addition there is an 80 page pdf manual available on the web site. Priced at £180 but available on Amazon for £124.98 it could well be a sensible buy.