A Pack of Five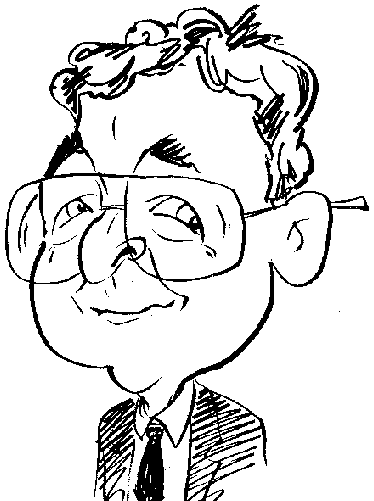 Review controls
Have you ever considered what happens to games once they get past the first flush of popularity?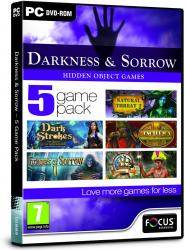 click image to enlarge
Occasionally an unsold copy could be left to gather dust on a retailer's shelves or maybe it could be purchased by another publisher to be re-released as a single offering or packaged along with other similar titles. Falling into the latter category is a collection of five Hidden Object games. These titles are National Threat 2, Echoes of Sorrow 2, Dark Strokes, Treasure Masters Inc - The Lost City and Esoteria - Hollow Earth. Originally published under the Alawar banner, these five games have been bundled in a collection entitled Darkness & Sorrow which is released as a single package by Focus Essential. Installation of the package gives you little choice but to add all five titles plus an opening menu giving access to the various individual titles.
Natural Threat 2, developed by Butterfly iSoft, allows you to make adjustment to the volume levels for music and sound effects with further choices of using full screen and special cursor game play. The game can be played in Casual or Expert difficulty level as you are cast in the role of a young mother. In this role, after creating a birthday cake for your daughter Lucy, you discover that the town has been taken over by a voracious plant life intent on destroying everything and devouring humans. You will need to solve a range of puzzles plus complete Hidden Object scenes where the items to be found are listed in text format using white or red colour with the latter colour indicating that an additional action will be required. After a slow start the game can grow on you a little as you fight back against the plant life and restore the status quo.
A second product in for this collection is the Stargraze developed Echoes of Sorrow 2 which is based on the activities of three friends (Lucas, John and Sarah), marriage, birth of twins, murder, divorce, marriage again and the kidnapping of the twins. The usual options of adjusting the volume levels for music and sound effects plus full screen viewing and a game cursor are available. There is an option of Casual or Expert difficulty as you take on the role of Sarah who has married and then divorced Lucas following his arrest for murdering Sarah's father. Sarah then marries John. When Lucas is released from prison, the twins are kidnapped so creating a complicated situation for the game to start in earnest.
The game has the standard array of gaming features as you explore various locations, solve puzzles and complete Hidden Object scenes by finding items presented in text format. However I never felt fully drawn into the game. Locations, such as a hospital that seemed totally empty of visitors, patients and staff apart from a single nurse, often seemed unbelievable. At least the hospital was a good source for collecting equipment while a police officer spent his time asking for a cigarette in an area displaying "No Smoking" signs.
Taking up a central position in the bundle's on-screen menu is Dark Strokes subtitled "The Legend of the Snow Kingdom". Developed by Friday's Games, this particular offering is the Collector's Edition of the game. Its bonus content consists of a bonus chapter, wallpaper, concept art, music, video, characters, mini games, collected snowflakes and puzzles. Apart from wallpaper, which grants immediate access, the other categories require progress in the main game before they become available. Profiles can be created for different players and adjustments made to the volume levels for music and sound effects plus select from full or wide screen viewing with a choice of Casual, Advanced or Hard difficulty levels.
As you enter the world of Dark Strokes and the Legend of the Snow Kingdom, you quickly find yourself engulfed in a tale filled with various kingdoms, magic, strange contraptions, a damsel in distress, a brave hunter and a small companion who carries out all the difficult tasks. As you, in the role of Alan Wood the brave hunter, comes to the rescue of the damsel being attacked by an Ice Knight, you can take time to check out the tools available to you as a hot air balloon drops mysterious gifts on the local inhabitants.
Running across the bottom of the scenes making up this game is a collection of tools which tend to expand as you make progress. As usual the central position is taken up by the inventory with any item marked with a plus sign requiring additional action. To the left of the inventory is a storage area for holding potions you collect plus a map, menu and strategy guide consisting of numerous screen grabs. A Hint feature, a display unit for viewing magic scrolls and your current goal are positioned on the right of the inventory. You also have access to a baby lynx, which you can name, residing in the inventory until called into action to perform various tasks.
The damsel, named Adele, quickly becomes encased in a snow globe. You need to set about exploring numerous well-drawn scenes. Here you will find appropriate animations, puzzle solving and completing different types of Hidden Object scenes plus keeping a look out for snowflakes, morphing objects and magic scrolls.
When joining the Treasure Master Inc game, you can accept the challenge of being part of the team looking for the Golden City of Chteo-Ptao, sometimes known as the Golden City. Developed by Ca$a Games, this title supports the creation of profiles and make adjustments to the audio levels for music and sound effects plus opt for full or wide screen viewing with hints. You join the team of Dick and Gordon as they work through several chapters of activity as these two treasure hunters accept and tackle the challenge set by a secret organisation.
Each chapter of the game contains at least two different scenes, which you need to switch between as necessary. Although well-drawn, with accompanying animations, the scenes are not realistic with several anomalies. Each chapter requires you to complete four specific objectives.
You need to find a text list of items with some of them being required to complete the scene. As these items have been integrated into the scene, they often appear incongruous and not easy to find. At least one of the items will need to be used to complete a task. There will also be a puzzle to solve before you can move on to the next chapter.
Completing this collection of Alawar games, bundled as the Darkness & Sorrow collection, is Esoteria: Hollow Earth. Developed by Happy Artist, the game casts you in the role of Stephanie, the grand-daughter of Professor Stone, an expert in geology and the developer of the Olivine Zone theory. Following a bad dream and the surprise arrival of a letter from her grandfather, Stephanie decides to visit him and her adventure begins as plans emerge to resurrect an earlier expedition to find and explore the sub-terrain city of Agartha in Peru.
The game is played out in a 1920ish setting. Voice actor dialogue is delivered from frozen facial characters and these are intermingled with cut-scenes, mini-game puzzles and Hidden Object game play. Varying in style and generally appropriate to the overall story line, the mini-game puzzles come with a delayed Skip option should the solution prove too difficult. While featuring the use of a text list to identify the items to search for, sometimes silhouettes replace the text list.
While there may be some variation in the enjoyment and challenge of this offering, you are certainly getting value for money with the Darkness & Sorrow bundle. The game requires a 2.5 GHz processor with 1024MB of RAM and 4371MB of hard disk space running Windows XP and later. Currently Amazon has this five-pack bundle at £10.50.
Darkness and Sorrow - 5 Game Pack (PC DVD): Amazon.co.uk: PC & Video Games