Charcoal Water Bottle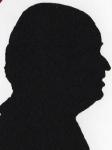 Something I have heard of previously but until now I have never tried a water bottle filled with tap water and then left for various periods with a stick of charcoal in it. Recently I reviewed a water bottle with a filter to remove impurities for use when no clean water is around, this item is intended to improve the taste of pure tap water.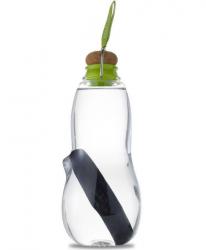 click image to enlarge
Before anyone starts taking lumps or charcoal from a fire I assume the stick provided here has been treated as it does not disintegrate like burnt wood.
What you get is an 11cm long slightly curved 2cm across round stick black in colour, it goes into the supplied 21cm tall round bottle which is 3cm across at the top and up to 9cm across lower down.
The bottle has a cork to fit in the top with a metal clip to hold it in place.
The clever bit is how the charcoal stays in place, the bottle is slightly flexible and once the charcoal has been dropped into the bottle you move it around until with a squeeze the end goes into the protrusion 10cm up one side and it is then held in position.
As I sampled water after one hour in the supplied bottle I noted only a small change from the taste of normal tap water and certainly no discolouration of the liquid.
Trying the water again after another hour – two hours since the tap water entered the bottle – the water had changed taste a little but still no discolouration.
Another two hours and the water had a different taste but it had been sitting at room temperature for a total of four hours.
The packaging suggests up to eight hours, well at that point it was a different taste and I am struggling to find words to describe it and the best I can come up with is different with the taste stays in the mouth even after drinking but apart from that it was warmish water.
The packaging says it's the minerals in the charcoal that change the taste.
The sealed package that the charcoal stick comes in says it has a balanced pH and tells you that after three months of use you should take the charcoal stick from the bottle and boil it for 10 minutes in a saucepan of water and then it's good to go for a further three months then you should recycle the stick.
Four suggested ways would be to place it in the ground to fertilize your plants, burn it on a fire, freshen your trainers or place it in the cats litter tray, I am not sure how practical some of those suggestions are.
Recently I told you about a different water bottle that had a filter to remove impurities from water; this product is to make tap water taste nice. My own thought is that this will be an acquired taste as I tend to like the taste of tap water.
The Charcoal Water Bottle is available from the link below for £19.95. However when I visited the site they were offering 10% with your first order so £17.96 seems a somewhat better price.
https://www.boxappetit.co.uk/collections/view-all/products/eau-good-water-bottle