Chameleon Water Bottle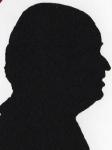 This water bottle charges colour according to the temperature of either the internal contents or the external air temperature. While this on the face of it is little more than a gimmick it could possibly have other uses that may be more useful.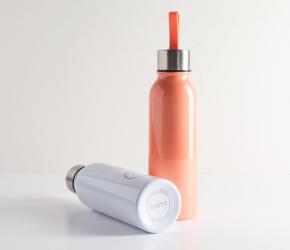 click image to enlarge
My bottle is what is described as peach in colour and even holding it will change that to white, if you fill it with a liquid then you know how much is in it because that's the level that will be white, clever and perhaps more useful than I stated in my first comment.
Reading the information on the link at the end the unit – you purchase – will come with a sleeve that was not sent with my sample and by the launch time there could well be more colours available.
The bottle is round at 6cm and is 19cm tall to the start of the cap and it holds around ½litre of liquid. The bottle is stainless steel with the special colour changing coating. The lid requires one and a half turns to remove and it is stainless steel with a rubberised finger loop emerging from its top. This could also be a belt loop through.
In my tests the colour change only took place when warmed and if cooled with a period in the fridge the colour stays solid and for a while even holding it will not bring the white to the fore. Another potential for telling the temperature of the internal liquid.
Filling it with warm liquid will of course turn the bottle white and only when it cools sufficiently will the bottles colour return.
When the lid is fully seated the bottle can be turned through 180degrees and the contents will remain sealed inside.
With the sleeve attached it will help keep the liquid warm/cold and protect from the odd knock or three.
At launch (January 2019 according to the website) there will be three colours Peach, Blue and Purple available with other colours to follow.
The initial purchase price (via Kickstarter link) will vary between £11.50 and £19 according to when you pledge.
This is certainly a talking point and I see there is an opportunity for companies to get their message on the bottle.
https://www.kickstarter.com/projects/root7/chameleon-the-color-changing-stainless-steel-bottl