Buffalo TeraStation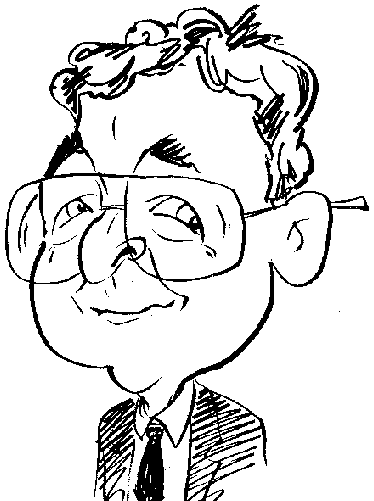 Review controls
Adding power and extra storage to your LAN is the task undertaken by the Buffalo TeraStation.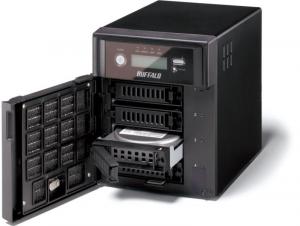 click image to enlarge
Classified by Buffalo as "an affordable larger capacity NAS device with robust RAID 5 capability", the company's TeraStation™ ES series is available in a variety of capacities. I have been taking a look at the TS-XEL/R5 unit which is available as a 4-bay fully populated device. My particular unit came with four 500GB drives giving the product a total capacity of 2.0 TB of storage. Other models in the series are available with capacities of 4TB, 6TB and 8TB.
Adopting the familiar rectangular box shape, this NAS has dimensions of 215 x 170 x 230mm (H x W x D). With a weight of 8 kg, the unit has a sturdy appearance suitable for placing on the floor or workspace. The unit is predominately black in colour, with a mixture of matte and reflective areas, apart from a few silver embellishments and logos on the front of the device. The front face also houses an LCD window emitting an orange glow during boot-up. This colour changes to a blue glow to indicate when the NAS is ready to proceed with its task.
Mounted below the LCD window area is an access door. This door has its own lock situated at the bottom. You are provided with a set of two keys for locking and unlocking this access to the mounted drives. This NAS supports drives that are hot swappable should the need arise. Fingers-crossed, this is not a situation that has arisen during the period of the review.
Tucked away out of sight at the rear of the NAS box are the unit's various connection options. Arranged around a ventilation outlet are connections for mains power, two USB 2.0 ports and a similar number of Ethernet ports plus a security mount connection. There is also a small power mode switch which might initially escape your attention due to its size.
This switch allows you to opt for Auto or Manual mode. The former, working in partnership with the supplied NAS Navigator 2 software, will automatically turn on / off the TeraStation box in conjunction with the PC. If you opt for the Manual setting then you will need to hold down the front-mounted power button for several seconds to achieve the same results.
With its SATA HDD interface, as already mentioned, you get support for 0, 1, 5, 10 and Standard RAID levels. Changes to the RAID configuration can be carried out with the System/Storage option available with the Web Admin Tool if you wish to change from the default RAID 5 setting.
TeraStation TS-XEL/R5 RAID Options

| Mode | Description |
| --- | --- |
| RAID 0 | Splits the data evenly between 2 or more drives |
| RAID 1 | Exact copy of a set of data on 2 or more drives |
| RAID 2 | Stripes data at the bit level – rarely used |
| RAID 3 | Byte level striping with a dedicated parity disk |
| RAID 4 | Block level striping with dedicated parity disk |
| RAID 5 | As RAID 4 with parity information distributed amongst available drives |
The Web Admin Tool, forming part of this package, can be accessed in a choice of ways. You can gain access at any time by typing the TeraStation IP address into a browser on a computer connected to the same network as the NAS box. A second method can be achieved following a right mouse click from the NAS Navigator software and then selecting the Open Web Admin option.
Buffalo has built in a number of other features into this NAS TeraStation box. Individual users and groups of users can be provided with access to the TeraStation with an assigned maximum amount of usable disk space being allowed. An option is available to configure the TeraStation to go into power saving mode at regular intervals through the use of a Sleep Timer feature. A three second depress of the power button will wake up the box from this mode when the situation arises.
Using one of the available USB ports, you can share a USB printer with the TeraStation. There is also built-in support for a DLNA media server, BitTorrent Client and a Direct Copy feature that will work with files from devices such as digital cameras, USB flash drives and an external hard drive.
Trying to price this particular TeraStation model was not the easiest task. I finally found one site that was offering the product for around £582 which did seem rather high.