LinkStation LS510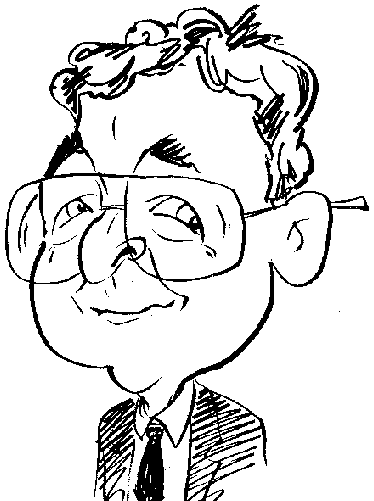 Review controls
As our personal storage needs increase, we need to look for a solution to offer easily accessible storage capacity. A NAS box could be the answer.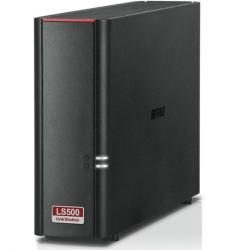 click image to enlarge
Forming part of Buffalo's LinkStation 500 series of NAS devices is the LS510 model. Adding a sizeable wedge of storage capacity to your home network resources, the NAS LS510 is a single hard disk unit for creating your local Cloud based storage. I have been checking out the 2TB version of the product and I have been led to believe that 3 and 4TB modules are currently available.
Rather plain in appearance, this after all a device whose main purpose is to provide extra storage rather than act as eye-candy, the LS510 is predominately black in colour with a single red strip embellishing the top of the unit's front panel. Designed to sit in an upright position, this NAS box has dimensions of 45 x 128 x 205mm (W x H x D) and weighing 1.1kg, the LS519 features a series of cross slats along the top of the box to help with any ventilation that might be required.
Located at the rear of the box are the various connection ports for mains power, Gigabyte Ethernet linking to a router-modem, USB 3.0 and an On/Off slider switch. LED power and activity lights are on the front of the box providing easily visible feedback. A power lead with interchangeable two and three-pin plugs plus a ribbon style Ethernet lead are provided. No USB lead is provided and this is fair enough as this type of connection is not necessary for the box to perform its storage function.
Quick Start Guides are supplied for setting up this LinkStation with a desktop computer and mobile device. Other documentation and software items, such as NovaBACKUP and NAS Navigator 2, are available for downloading from a supplied URL. According to the product's packaging, setting up this NAS box should be easy with its intuitive web-based interface.
Unfortunately my experience was somewhat different. This was due to my review sample product being dispatched a few days before the release of new firmware which affected the smooth running of the setting up process. This is not a problem that should affect other users. However it did give me the opportunity to sample Buffalo's excellent technical support.
As part of the product's set up, you will be required to set your own password to securely protect the content on your device as you access the NAS Navigator 2 interface with areas designated for photos, music, videos and applications within User and Public sectors. Apps, for both iOS and Android devices, have been created for use with the LS510 NAS box. These apps are entitled SmartPhone Navigator and WebAccess.
Using these apps you can remotely carry out management tasks and access content stored on this Buffalo LinkStation unit. I was able to view documents, download videos to my mobile device and then view the content plus listen to my music collection stored in the NAS box.
As mentioned earlier you can download a copy of NovaBACKUP software. While not my favourite application for backing up content, this software does a reasonable job and is fairly easy to use when helping to protect your valuable data. There are options to copy, backup, restore and create schedules for jobs. Other features include using an Express Wizard, carry out Disaster Recovery work plus backup to the Cloud.
Depending upon whether you are intent on using the graphical web browser style interface or the NAS Navigator 2 applications, a different approach to transferring data and adding content will be required. When using NAS Navigator 2 you have access to the normal Windows conventions of drag & drop or copy & paste to do the job. The graphical web browser interface makes use of a specific Upload option. This feature allows you to select individual or groups of files, but not folders, to be selected for transfer. This process, especially for large files, such as movies, can be rather time consuming.
The LS510 NAS box is powered by a Realtek RTD1195N Dual Core 1.0GHz processor with 256MB of DDR3 RAM. The LinkStation is compatible with Windows 7 32/64-bit and later or Mac OS X 10.7 and later.