Brando 3D Moon USB Lamp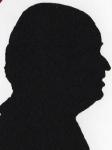 Brando used to use the strapline 'everything USB' this was rather disproved by an excellent electric screwdriver set recently reviewed that used standard batteries to power it stil looking at their website most thing are still USB orientated.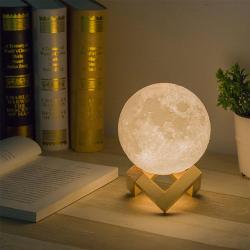 click image to enlarge
Here I have a 10cm light (other sizes are available) with what is called a representation of the moon's surface on it and while I am no scientist the finish has highs and lows and feels rather rough to the touch.
You can have four different lights on the inside, bright white, dull white, bright yellow and dull yellow. But there is of course one more off meaning no internal light and yet one more colour which I rather like blue which you get when charging via the supplied USB lead.
The surface is not smooth and when viewed closely has darker and lighter shaded which I assume is the mountains and valleys of the moon.
It comes with three 90degrees pieces of wood with a dowel fitting which when assembled make a stand the pieces are 6x4x1.5cm, if you are unsure how to assemble look at the illustration on their site.
There is a 14x10cm folded sheet one side in English the other in Chinese.
The model is described as a panoramic view of the moon.
It seems there are six different sizes from 8cm to 20cm with the pricing differences clearly shown on their website.
Everything is controlled from a single button charge point on the unit, the strength and length of push will determine the yellow or white colour and the brightness of the display.
The recharge time from empty is around two hours during which you get the nice blue light. A cable is supplied which uses a standard USB port to take the power.
The time of continuous use been charge is stated at '8 hours +' on the brightest white light setting I got no less than 20 hours of use. At the lower light brightness setting you get far longer.
This in a darkened room looks great and it would also make a great nightlight.
My knowledge of the valleys and mountains of the moon is not good enough to say if this panorama is accurate or not. I can say that it is a fun USB light with stand that will be a talking point for anyone owning it.
The 10cm Brando 3D Moon USB Light is available from the link below for $39 (US) my unit was delivered in two days by courier.