Bluetooth Smart Analyser Pro

Review controls
Bluetooth Smart Analyser Pro Model 9192 is one of the Salter MiBody range of body analyser scales. As well as the basic function of measuring one's weight, it will be useful for those monitoring BMI and other parameters as part of the physical health regime for a group of people.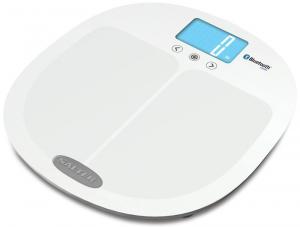 click image to enlarge
These scales, working in conjunction with a smart phone app, keep track of body fat, body water, muscle mass, bone mass, Body Mass Index (BMI) and Basal Metabolic Rate (BMR) all of which are significant to many health conscious people.
The Analyser Pro, which is white in colour and has a top plate of toughened glass, is roughly 31 x 34 cm and is almost circular in shape. The unit is mounted on four short feet while a set of four extenders is provided in the box to be fitted onto the feet when the scales are used on carpet rather than a hard floor. Having a capacity of 440lb, which is over 30 stone, these scales are suitable for those who are aiming to get into shape as well as those who are working on their fitness.
The digits on the blue backlit display are about 4cm high and, using a tiny push-switch on the underside of the scales one can switch between kilograms (KG), pounds (LB) and Stones & pounds (ST:LB). Below the display are the three touch pads but more of that later.
As straightforward, every day, scales they work well and are very easy to read. However, the selling point of these scales is their analyser functions which employ a technique known as bioelectrical impedance analysis (BIA) and require the Salter MiBody app to downloaded and installed on one's smartphone.
With BIA a minute electrical current is sent through one's body via one's bare feet and legs. As current flows more easily through muscle tissue (which has a high fluid content) than fat it is possible to estimate the relationship between fat and water.
Having installed the MiBody app on the phone and paired it with the scales using Bluetooth one can start inputting personal data for the (up to 8) users of the scales having initially selected a user number by using the touch pads referred to above. Name, date of birth, gender and height are among the parameters required for each user.
Then, to use the analyser functions, one selects the appropriate user reference number and stands on the scales in bare feet. The machine then carries out its measurements and displays, one after another: weight, body fat percentage, body water percentage, BMR, muscle mass bone mass and BMI. The display steps through each of the various parameters in turn which can also be sent to one's phone as long as the app is running in the background and the phone is paired with the scales.
These results can then be sent to one's PC and these results displayed in the form of a spreadsheet.
Much of the space in the short English section of the A5 size instruction booklet is taken up with a graph of Body Mass indices and tables of body fat and body water together with explanations of their significance as well as that of other parameters such as Bone Mass and Basal Metabolic Rate. There is a note, however, that other vendors will probably be using different algorithms in their calculations so that it is not possible to compare results obtained from this machine with other those on other makes of scales.
While I found that the analyser results were consistent and BIA appears to be a useful tool I don't understand the underlying technology. However, Salter is a long-established brand with a good reputation.
With a list price of £59.99 but available on Amazon for £49.99 these analyser scales provide an easy way to keep an on-going record of a number of physical attributes of members of the family and could be useful monitoring performance in reaching obesity and other healthy goals as long as it does not become over-obsessive.