BlackBerry KEY one Black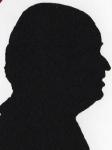 Most people will have either an iOS, Android or even a Windows Phone, their used to be another option called BlackBerry and now there is again, now surfacing from the dead with Android, so you have what looks like a BlackBerry offering but running Android.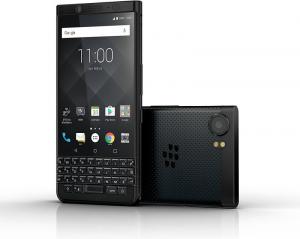 click image to enlarge
BlackBerry were originally a business tool and came with a real keyboard below the screen, not having used one for a while even entering my password for Google had me scratching my head for how to get to the non-alpha keys.
The unit is 15x7.2x1cm and it has a 9.8x6.5cm viewable screen which gives you the notional diagonal imperial measurement of 4.5inches in a 3:2 display ideal for emails, with the four line keyboard under this.
The screen is fully touch so apart from keyboard entry it is like a standard Android phone.
If you have large digits then I suspect this is not for you as each key .5cm square with virtually no space between keys and the keys need to be pressed to register.
Going around it the unit has a volume rocker on the right side with the 'convenience' button below this. The base has dual speakers and USB 'C' port for charging between these. The left side has the on off button and the top has 3.5mm socket for headphones or earbuds. The rubberised rear has the slightly raised camera top left with dual tone flash beside it.
Your SIM and any micro SD card enter at the top of the left side.
Bootup is just under 30 seconds while shutdown is 5 seconds. In runs Android 7.1.1 which is almost the latest version, only a small number of phones have Android 8.
It comes with 4GB of memory and just over half of that is available. It comes with 15GB of internal storage and around 13.5GB is available. Apart from internal storage and that from any micro SD card you use it also supports an OTG device plugged into the USB 'C' port.
The battery is 3500mAh so should last a good day.
The camera is 12MP at the rear and 8MP at the front.
While this is an Android device BlackBerry still does a few things differently and so the BlackBerry Help item might get some use to begin with if you are new to BlackBerry like how and what you can install a feature to the convenience button.
I mentioned the aspect ratio of the screen being 3:2 if you want to view 16:9 videos the screen will look a look smaller so not really the tool for those.
I am not claiming to be a great typist even on a full size keyboard but those of us who are hesitant may like the fact that a real push is required on the BlackBerry keys and in a way this means less typos.
For the power user the shortcut keys get you to other apps quicker just don't be hesitant on your keypresses. Once you get into BlackBerry the whole keyboard can act as a trackpad but it does need practice to perfect.
Even though the whole keyboard is small it does have a fingerprint scanner hidden in the spacebar to help with security that was always something high on the BlackBerry agenda and it still is.
The mono speaker is not great but this just reminds you this is a business tool first.
The BlackBerry Key one Black is available from Amazon for £498.90 SIM free.