Bargain Buy Electric Toothbrush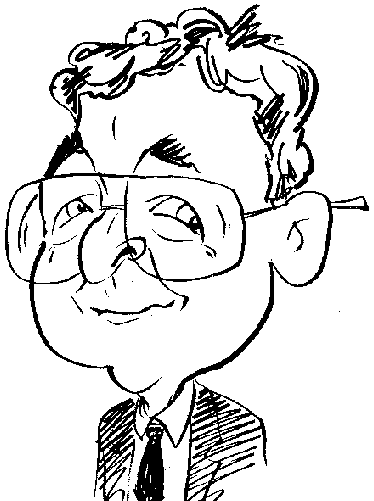 Review controls
Probably better known for its toothpaste, Colgate also produces a range of toothbrushes..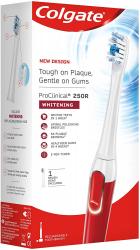 click image to enlarge
I do not know whether it is down to my imagination or not but there does seem to be more dental related adverts on television these days than were appearing a few years ago. While I do not have any data which could prove or disprove this feeling, I decided to follow what I had perceived to be a possible trend and review an electric toothbrush from Colgate. The product, taking the focus of my attention, was the Colgate ProClinical® 250R model.
Released under the banner of being "Tough on Plague, Gentle on Gums" as it provides a deep clean service, the Colgate ProClinical product consists of a handle unit and a brush head which is already in place and ready for action. The sleek and white handle unit houses a rechargeable battery that can hold enough power for two daily cleaning sessions over a period of ten days.
The brush head, which is mounted on an 8 cm white coloured stalk, features two different types of bristles that are meant to tackle various specific tasks. There are soft bristles that are meant to perform the duty of sweeping along the gum line plus carry out some flossing facilities plus power tip bristles for use with hard to reach areas within the mouth. The rear of the brush head has an area that can be used to clean the tongue and cheeks to reduce the possibility of odour causing bacteria.
When used to clean the teeth and other areas of the mouth, the Colgate 250R toothbrush vibrates at a rate of 30,000 strokes per minute as the brush head combines movements from side to side along with up and down motion. A cleansing session with the Colgate 250R lasts for a period of two minutes with reminders every 30 seconds to move the brush and target a different section of the mouth. Once the two minutes have elapsed, the toothbrush will turn itself off. When necessary, an on/off red button, on the handle unit, can be used to manually start and stop the action of the brush.
Colgate feels that its approach to mouth cleaning will increase the removal of plague by as much as five times as that achieved by a manual toothbrush. This should result in healthy gums and a reduction of gingivitis and outbreaks of gum bleeding. As I do not suffer from gingivitis or gum bleeding, I can not really comment on this aspect of the toothbrush's performance but I have no reason to doubt Colgate's claims regarding its effectiveness.
Supplied with the Colgate toothbrush is a charging base unit, coloured white to match the toothbrush handle. The charging base connects to a main power source via an 80 cm lead with a two-pin plug. In some cases an adapter for 3-pin use will be required for linking the charger to a power source. When not being used the toothbrush can sit on the charging base to give its battery a boost of power. Colgate recommends that the initial charging of the toothbrush should be allocated a period of ten hours to get the optimum performance. A charging light on the handle unit will pulse white during charging and this will turn itself off when the process is complete.
Helping ensure that this toothbrush delivers a good mouth cleaning service, Colgate recommends replacing the brush head after three months of use. Although there does appear to be a version of this toothbrush supplied with three brush heads, my review sample came with a single brush head. Currently Amazon UK has this product available at £19.99. At this price you could not really expect to find more than one brush head. Amazon also has a pack of four replacement brush heads priced at £10.00 for when the need arises. With a portable case being included this would have made an excellent travelling companion but there is nothing to stop the user supplying one themselves.
https://www.colgate.com/en-gb/products/toothbrush/electric/colgate-proclinical-250-whitening-rechargeable