Asus UX410U Zenbook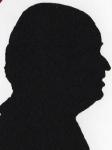 A notebook with decent Harman Kardon speakers, a not that reflective screen brushed metal front and a mushroom back which means not much to show finger marks all things that are plus points before we get on to what's inside.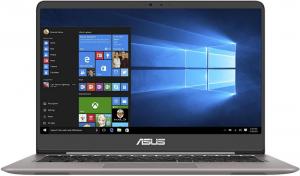 click image to enlarge
This Asus Zeonbook measures 32x22.2x1.5cm the last measurement is at the back and it is only 1cm at the front and it weighs 1320 grams.
The viewable screen is 31x17.7cm which gives the notional diagonal imperial measurement of 14 inches. The display is 1920x1080.
The left side has DC input, USB port, HDMI port, USB 3.1 port and finally a 3.5mm socket for headphones. Both the back and front are clear. The right side has two USB2 ports and an SD card socket.
The base has a pair of Harmen Kardon speakers mounted on the slightly sloping bottom edge, there are four 2cm across round pimples to keep the base clear of your desk.
Open the lid and the first surprise is that the screen only goes back to around 130 degrees.
It has an 85 key keyboard with the alpha and numeric keys being full-size. Two centimetres is clear on the left and right sides with close three centimetres clear behind the keyboard. The 10.5x7.5cm trackpad is mounted centrally in the nine centimetre strip in front of the keyboard.
It has an Intel i3 7100 processor running at 2.4GHz. It comes with 4GB of RAM and a 128GB SSD drive. The operating system is Windows 10 64bit version 1607 but I was able to upgrade to version 1703 during my review period.
It came with a trial of McAfee security software which timed out on day two of my loan but ASUS have a range of software items in their Giftbox which include Avast free anti-virus which I made do with but if I owned this I would want a full Internet suite. The other thing that might encourage you to buy is 20GB of free Dropbox storage, there is also some CyberLink software that's pre installed.
While some people hate trackpads I quite like them when working in a confined space and your finger almost floats over this responsive one. You will note this unit does not have touch.
The keyboard is backlit and it stays on for 40 seconds after you touch the last key. Working in poor light I found this useful but if you are a perfect touch typist is should not matter.
For a small Notebook I found the sound - both quality and amount - excellent from the Harman Kardon speakers provided.
I like the screen and not being that reflective it was still quite viewable even with quite bright light. Once upgraded to v1703 you get the benefit of low blue light at night choices that enable you wind down quicker and not be hyped up when you stop work.
The battery lasted close to eight hours which was streaming and downloading so 'heavy use' more when in 'normal use', the recharge time while still 'on' was 110 minutes.
Bootup is 12 seconds and screen shutdown is 3 seconds.
It did everything I asked without problem which included watching streamed TV via TV player in bed.
I would have liked touch which of course Windows 10 was made for, and a larger SSD would have been nice.
The ASUS UX410U is available from Amazon for £569.00 with free delivery.