Archos 50 Saphir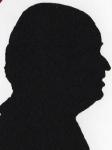 Over the years I have looked at a good number of phones from the French company Archos. Here I think I have received their first rugged phone. This is still a normal phone in other ways but it is able to stand up the odd drop or three.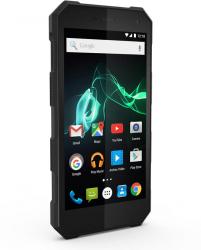 click image to enlarge
The Archos 50 Spahir measures 14.2x7.2x1cm and weighs 219grams.
Rather than being the perfect oblong the corners are shaved off at perfect 45 degree angles.
This is a dual SIM phone with SIM 1 being capable of 4G, SIM 2 3G but instead of two SIMs you could have a single SIM –SIM 1 - and a micro SD CARD.
Going around the outside the right side has a volume rocker and below this the on/off button. The base has a pin hole microphone and beside this a micro USB slot for charging this is behind a flip open rubber flap.
The viewable screen is 11x6.2cm giving the notional diagonal screen measurement of 5 inches; the IPS screen display is 720x1280. The left side has another rubber flap and behind this the tray for SIM etc. On top is another flap and behind this a 3.5mm socket for headphones. Centrally on the back near the top is the camera and below this a LED flash. At the bottom of the back is the speaker. Finally in English the word Waterproof.
While the rubber casing fits tightly to the sides the word Waterproof might perhaps mean rain proof as I am not sure how long it would stay useable under water. I found that all the buttons really needed pushing certainly they were not touch.
Also in the box is a small Quick Start Guide, a USB to micro USB cable and a USB charger.
The rear camera is 13MP while the front Selfie camera is 5MP.
The processor like most modern units is Quad Core 1.5GHz processor; it has 2GB of RAM and 16GB of internal memory. It works with 4G signals where available. Startup is 33 seconds and switch off is 4.5 seconds.
While Android 7 may be available on a few chosen units the latest I have seen is Android 6.0.1 and this has 6.0.
The website claims waterproof for 30 minutes and drop resistant from 1 metre. As with all these claims I have to take the manufacturers word as if I returned a smashed SmartPhone I would not be popular.
The problem as I see it is the face if it dropped even from less than a metre onto a protruding stone face down would the screen survive. The stated claim is that the Gorilla Glass 4 screen is scratch and impact resistant again I take their word, no doubt if you had a failure they would listen to your warranty claim.
The battery is interesting at 5000mAh it is stated to last over two days between charges. In my tests it certainly did in normal use however should you be on a diet of continuous video streaming it might struggle.
It has the normal Android Apps as well as the Archos rather nice video player.
Ruggedized phones are a different market and I would have been happier if the glass – gorilla glass or not – had a covering but that's me.
The Archos 50 Saphir is available from the first link below for £199.99
http://www.archos.com/gb/products/smartphones/saphir/archos_50saphir/index.html