Amplicomms Phone PowerTel M9500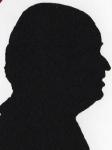 This is not just another phone, nor even another phone for the hard of hearing, I grant you that it looks like a standard smart phone and it has volume levels that would make most with good hearing jump but this unit goes one step further in that …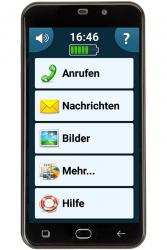 click image to enlarge
It is 14x7.2x1cm and most importantly for those who want to keep their hearing loss to themselves it looks perfectly normal, the standard black screen surround and the back is a matt silver colour. It weighs 180 grams and the notional imperial diagonal screen measurement is 5inches.
This is the nearest thing to a standard smart phone that I have seen which is suitable for someone with substantial hearing loss.
A three second push of the single button on the right hand side starts this Android unit, I have made a lot of the hearing loss capabilities but it also has large icons which also will help those with sight loss. The front screen has a large battery bar and under this only five icons, Call, Messages, Pictures, More and Help. Everything else is available but not from this front screen.
Continuing around the phone the normal volume rocker is below the on/off button, the base has a micro USB socket for charging. The left side has two buttons, Boost and Torch while the top has input for headphones.
The top area of the back has a camera button with LED flash beside it and an emergency assistance button beside that. Towards the base of the back is a meaty speaker that really will make a person with normal hearing jump. To put it in words the sound output is 90 decibels, a pneumatic drill is just over 100 decibels.
In the box is a 13amp plug front with USB connection and the required USB plus a 3.5mm set of earbuds. There is also a user manual with 18 large type pages in English which should get you started.
However this phone designed to link to other devices for those that need assistance. Certainly when an update became available during my test this maybe required for those with poor sight as during the update it became a unit that those old enough to remember DOS might know and worst of all the type was tiny and you needed to use the volume keys to make selections, this is something that certainly needs looking at.
The tutorial is good for the novice user which makes all initial touches a firm push and only once completed do they become more like the light almost no touch those with normal phones will know. According to your ability the phone can respond to near normal touches once you have proved your finger dexterity ability, very clever.
Unlike some early phones for those with disabilities this can be a near normal unit and once onto Internet the only difference you will probably notice is larger clearer type.
The three buttons under the screen do the normal all open tabs, home and back but remember for the normal users you still need to touch/push to make them work. For anyone with a hand tremor this is marvellous.
This is never going to be a 'cheap' phone as the basic overlay of Android makes it a specialised device.
The Amplicomms PowerTel M9500 is available from Amazon for £197.16 with free delivery.