ASUS ZenBook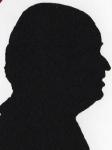 I saw this at the launch last year and despite two representatives of ASUS saying it would be available from tomorrow, it has taken a whole lot of tomorrows to pass before I managed to finally get one into my hands to review.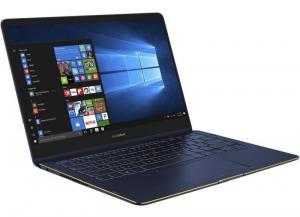 click image to enlarge
ZenBook means it is both a Notebook and Tablet and unlike a couple of recent machines this has a good amount of storage and indeed it arrived complete with V1709 of Windows 10 the latest update that has finally very recently struggled onto my own PC despite it trying to upgrade to it since mid December.
It is 30.5x21.5x1.2cm the last figure at the back but this is half that at the front and it weighs 1110 grams.
The viewable screen is 29.3x16.5cm which gives the notional diagonal imperial screen measurement of 13.3 inches. The screen resolution is 1920x1080. It has an 80 key keyboard with the Alpha keys being full size.
There is a 2cm strip behind the keyboard, a 1.6cm strip clear on each side and close to 9cm clear in front of the keyboard with the 11x7cm trackpad being mounted 9.5cm from the left and 10cm from the right.
The left side has a micro USB port and a 3.5mm socket for headphones. The front is not surprisingly clear, the right side has a micro USB port, fingerprint sensor and an LED for power, there are also the on/off button and volume rocker control. The rear is clear as it needs to be as the screen goes through 360 degrees.
The face on my unit was a deep blue which ASUS call 'Royal Blue' as was the back that only has four 1.7cm round domed rubber feet to protect anything from the metallic casing and two good sized Harman Kardon speakers between the front two feet.
I am used to notebooks coming in without an optical drive but it still seems strange not to have a full size USB port, but for mobile use maybe less important. Searching the box finds the charger and mains lead a slip case for the ZenBook, a stylus ideal for fine control and a small 5.8x5.3x1cm dock that has three connections on the front, USB 'C', HDMI and USB 3.1 this connects to the ZenBook via a 15cm hard wired lead that emerges from its back.
It comes with an Intel i7 processor, 8GB RAM, 10 point touch, a 500GB (475GB) hard drive and around 440GB of this is available. Windows 10 Home 64bit V1709 is installed.
The ASUS site claims over ten hours of use during my mixed use tests which included around 25% of streaming video I never got more than eight hours using the default settings.
Bootup is around ten seconds and Desktop shutdown is two seconds.
It is a very usable Notebook and with the HDMI and full size USB on the supplied dock means other USB items and even a large panel could be connected too.
As a Tablet the most important thing is lack of weight and at just over one Kilo this box is ticked. The screen is shiny when in full sun and finger marks do show but this is the case with all but the most expensive offerings. As soon as the screen is turned the keyboard is cut out but for short sentences the onscreen Windows keyboard is fine.
The ASUS ZenBook Flip S is available from Amazon for £1221.98.