AOC 27E1H 27inch Monitor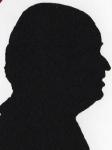 Not everyone can afford all the bells and whistles available from top of the range panels, so here a basic offering that still offers a good sharp image and it is of course flicker free to give an excellent panel available at a budget price.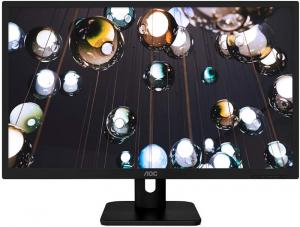 click image to enlarge
The AOC 27E1H 27inch Monitor measures 62x37x1.5cm and it sits on a stand that is 20cm square that raises the screen by 8cm from your desk. It has a lot more back tilt than most other such offerings at close to 20 degrees and amazingly offers nearly half that of forward tilt.
The viewable screen is 59x33.5cm which gives the notional diagonal imperial measurement of 27inches. The display is 1920x1080.
This is described as a 'Business' Monitor. So with 5ms refresh not ideal for gaming where there are 1ms panels for those that indulge but of course at a far higher price.
Connections on the rear are either VGA or HDMI, I have tried both and either way the image is crisp clear and sharp. The only other connection on the rear is the mains lead.
On the bottom edge of the screen surround towards the right side are five rectangular buttons that are the unit's controls. Button one allows you to force either D-Sub (VGA) or HDMI although with only one connection it will always select that. Button two gives 'Clear Vision' off or with the next button various shades of this option. Button three gives all the other choices of Contrast, Brightness, Eco-Mode and more.
I tried everything in sight from the various menus but decided that all my fiddling did not improve the 'Auto' choice and as with most panels for all normal situations the panel knows best. However there could be times with strange light sources etc. where a fiddle could improve things and the menu structure allows you to try.
Even though most recent panels have 'flicker free' and 'low blue light' as standard it is still important to mention these features as one part of the body they still cannot replace are eyes and while glasses can help poor vision the older flickering monitors were very good as sight degeneration so having a clear sharp image will help to maintain your vision. Anyone who uses a panel for many hours a day will certainly agree.
A 27inch panel with good colour and brightness at sub £150 price point must certainly be on most people's wish list. The only thing missing is inbuilt speakers it does however have a 3.5mm output for those connecting via HDMI.
The AOC 27E1H monitor is available from Amazon for £148.99 and this price includes free delivery.