AOC 4K G2868PQU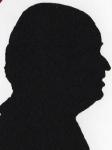 Having the ability to display four screens at once is possible for all users of this panel and while technically you could do the same manually with a 1920x1080 display I am not sure how long most people's eyes would last and indeed how much you could see with it. Here however once used to the AOC software moving things is a breeze.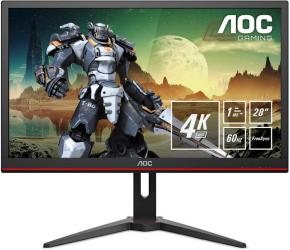 click image to enlarge
This AOC LED monitor has a screen that measures 66x40x1.5cm. This gives the notional diagonal imperial measurement of 28inches. It has a 'V' shaped stand 43cm wide at the front and 9cm wide at the back, the stand raises the screen between 3 and 16cm from your desk.
Looking at the rear of the panel has a thicker area in a smaller rectangle with a four port USB3 hub on the right side and all the connections on the underside which makes then easier to access.
The power input is towards the right side with all the other connections on the left of the connecting arm. These are two HDMI, Display Port, VGA and 3.5mm sockets for Audio in for VGA and headphone out. There are a pair of 3W speakers that give acceptable sound. Most gamers would probably use headphones to capture that tiny sound which could be life of death.
This unit is capable of displays up to 4K (3840x2160). The supplied AOC software gives the ability to show up to four screens on the display two by two or other options.
The refresh time – vital for gamers – is 1MS and while most recent monitors claim 178 degree viewing angles this is slightly less at 170/160 degree. However most will be sitting either straight on or at best no more than a third of that distance off centre.
As a full screen panel in 4K mode the pixel density is 138PPI and this means there is 300% more screen space than with HD.
This unit has Free Sync and possible 75HZ refresh rate.
While a gamer most likely only cares about resolution and screen redraw time this look nice with a tiny red line along the bottom bezel breaking up the otherwise black finish. It is well designed with the connections easily reached and well clear of the desk even for quite rigid cables. One of the USB ports on the right side is always on meaning you can charge your phone even when the panel is off providing the power plug is still inserted.
Now onto colours, they were excellent in all lighting conditions, I tried all resolutions from HD up and all imagers looked lifelike.
While it might be overkill to use this unit for office work – there are cheaper choices – your eyes will thank you especially if your usage includes large spreadsheets.
As a gaming panel this is excellent value and a look at other offerings will prove, the minus point is you do not have 144HZ refresh rate but often graphics cards cannot support this rate at 4K anyway.
Another advantage is that the amount of desk space required is less than other 28inch offerings.
The AOC G2868PQU monitor is available at the time of publication from Amazon for £404.98.